Natasha McKay: Dundee skater says sacrifices worth it for Olympic dream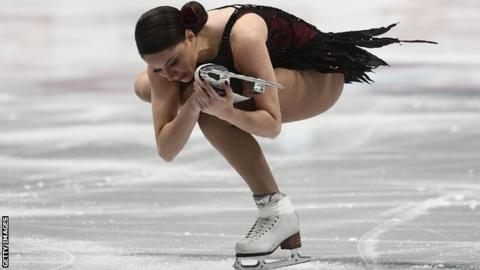 British Figure Skating Championships
Venue: Ice Sheffield Dates: 26 November-1 December
Coverage: Friday, 30 November, 12:30-19:00 BBC Sport website and app, connected TV. Saturday, 1 December, 12:00-18:00 BBC Sport website and app, connected TV
"I went to my friend's birthday party when I was six and I begged my mum for skates for a whole year after that until she gave in."
British figure skating champion Natasha McKay started her career on the ice aged seven.
"It's a big commitment," the Dundonian 23-year-old told BBC Scotland as she prepares to defend her two national titles.
"When you're a teenager, you can't go out with your friends much. You've got to be in your bed early for training. You can't have as much as a normal teenage life."
McKay's day begins at 5am to get to training at the Dundee Ice Arena.
She also works part-time with a clothing retailer to help fund her career, as well as coaching youngsters, which she hopes to continue when she retires.
But the petite skater has big ambitions before even considering hanging up her skates.
The reigning ladies champion claimed her first national title two years ago, but it was not quite enough for her to make her Olympic debut in PyeongChang this year.
"My dream is to go to the Olympics," she said. "It was really disappointing to miss out, but I only really had a breakthrough in 2016, so making 2018 was a little bit hard, but hopefully I'll be at the next one."
McKay will compete in Sheffield on Friday and Saturday against the best in the country, including 2015 winner and eight-time runner-up Karly Robertson, Dannielle Harrison and Katie Powell - all from Dundee, at the British Figure Skating Championships.
"It's always the toughest competition of the year, the one you want to do well as it leads to European and Worlds," she said.
"Last year, I was trying to regain my title and it was a lot tougher than winning it the first year."
The Scot goes into the competition in good form - she is the only GB woman to have made the World Championship qualifying score after a personal best helped her win the ISU Golden Bear event in Zagreb last month.
"I'm really competitive person," McKay added. "But, when you're on the ice, you don't really see what everyone else is doing - you focus on yourself."
Prestwick's Lewis Gibson will also be in action alongside partner Lilah Fear in the ice dance. They competed together for GB at this year's World Championships in Milan.