London 2012 sparks Mick Gault retirement exit
By Chris Osborne
BBC Sport
Last updated on .From the section Shooting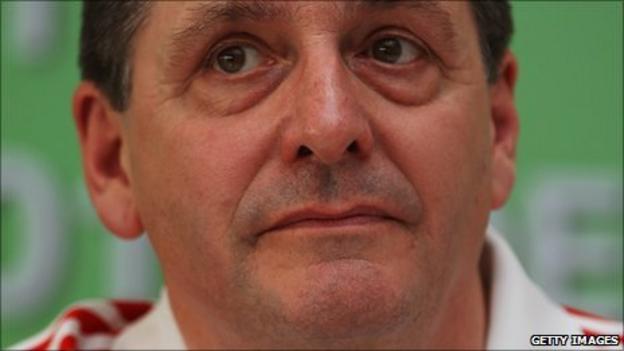 Mick Gault, England's most decorated Commonwealth competitor, has stepped out of retirement and has instantly set his sights on London 2012.
The 57-year-old quit shooting in October following the Commonwealth Games in Delhi, where he fell short of winning a record-matching 18th medal.
"I didn't realise how much I'd miss it," he told BBC Radio Norfolk.
"After Delhi I was all for giving it up. I don't know if the analogy is right but it's like a drug."
The Dereham gunman cited media pressure for his decision to retire, after he failed to equal Australian shooter Philip Adams' haul of Commonwealth medals, leaving India with a career total of 17.
But he admitted: "You're competing, you're with your friends and you stop and you haven't got anything.
"You have your family - your wife and your children - but there's something missing in your life and it took a long time to figure out what it was.
"I went through a bad period, pulled myself together and realised what it was.
"One day I'm going to have to say 'enough's enough'."
Gault's return to the sport has been sparked by a rare opportunity to earn an Olympic place.
As host nation Great Britain have a quota place for London 2012, and if Gault can meet the free pistol qualifying score of 556 at the European Cartridge Championships in Belgrade this month, he will have a strong chance of taking the spot.
He will also get a chance of qualifying in the air pistol, but that will come next year.
"The Olympic Games in my sport was so hard to get in to because of the system," he said.
"In Europe you're up against shooters that are 100% professional and that's all they do.
"The average British shooter has to go to work, earn a living, go home and do some training and be the best they can be."
Gault, whose main competitor for a London 2012 place is Bedford's Nicholas Baxter, has had his Belgrade entry funded by Breckland Council.
But he estimates he will need a further £5,000 to fund a successful bid for London 2012.