Counting the cost of Olympic dreams
By Rhona McLeod
BBC Sport Nation
Last updated on .From the section Shooting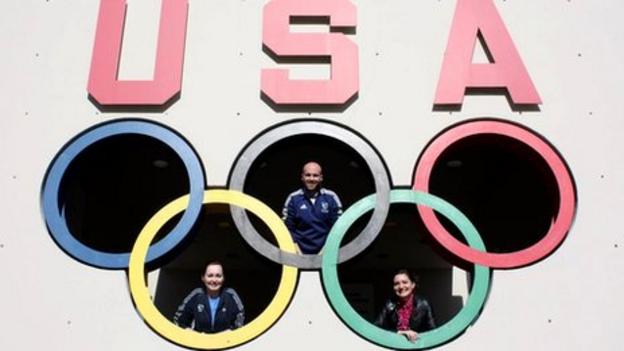 With the London 2012 Olympic Games now only eight months away, all across the nation Scottish sportsmen and women are in a vital phase of their preparations.
For some the initial target is to gain selection for Team GB, while, for others, the focus is very much on medals and their colour.
But what is the cost of becoming an Olympian?
Undoubtedly many sacrifices are made in terms of family life; and then there are the rigorous physical demands of punishing one's body to produce perfection.
For most there are also hefty financial sacrifices which need to be considered.
I travelled to Colorado Springs in the USA, the home of the US Olympic Training Centre.
This is a high-tech, dedicated training facility where the sporting superpower that is Team USA is preparing many of its athletes for London 2012.
But it's not just Americans who can train here - Delhi gold medal-winning shooters Jen McIntosh and Neil Stirton have also picked Colorado Springs as their training base for two and a half months.
But, for these talented Scots, this privilege comes at a price.
Each will pay over £6000 for the 70-day experience, money which they will try to recoup in sponsorship and funding - but both will take personal financial hits.
Had they stayed in Scotland they would have had to train at a far inferior facility which could not supply them with an indoor, competition-distance 50m target range.
"I did not want to get towards London and all of the selection processes and not having given my all," says Stirton.
"I had to do what I possibly could. Staying here, you are with like-minded people, you've got fantastic facilities and that really made the decision for me quite easy."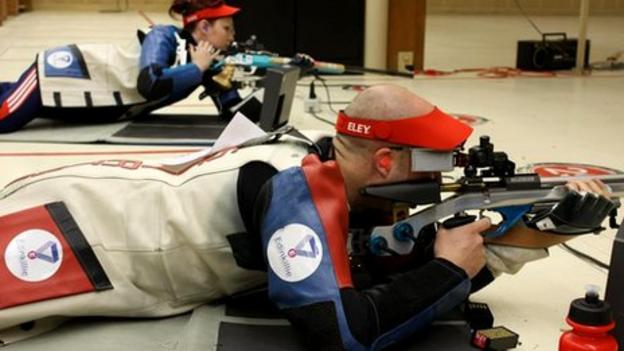 His training partner McIntosh is also convinced they made the best decision.
"I've already seen a big improvement in my training," she said.
"I've put two points on my PB in the past four weeks and five points on my training PB.
"Here we have all the facilities, but it's really helpful to be able to mingle with people who are all at that level - I think it's really beneficial."
As a visitor to the US Olympic Training Centre it's easy to see why Stirton and McIntosh have made their decision to train here.
It's an iconic and inspirational place, dedicated to the ideals of hard work, self belief and the awe-inspiring performances of others.
Olympic imagery is everywhere, from the Olympic rings to the flame - and quotes from American sporting greats.
Present-day residents live in an Olympic bubble where they are protected and inspired, coached and cared for to an enviable level.
Here in the UK such a facility would be incredible, a place where sportsmen and women from a range of events - whether swimming, wrestling, shooting or gymnastics - could live on campus and eat, sleep and train with the common goal of Olympic success.
If you look at Olympic statistics of achievement, the country at the top of the summer Games table, winning 929 golds, is the USA.
In second place the Soviet Union boasts 395.
Jen McIntosh and Neil Stirton have travelled to a country which is committed to excellence.
This will be their personal financial sacrifice - but how many others are working through these vital months, knowing their preparations for London 2012 can only be second best?
You can see more of this story on Sport Nation, BBC Two Scotland at 2200GMT on Tuesday 6 December.