Gareth Callan puts retirement plans on hold
By Lucy O'Sullivan
BBC Kick Off reporter
Last updated on .From the section Shooting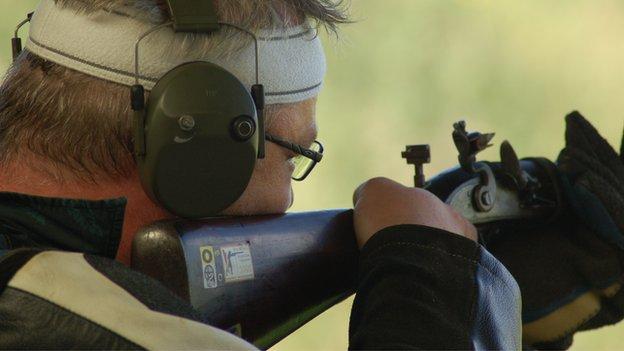 Jersey shooter Gareth Callan has delayed his retirement following success with the British team at the Muzzle-Loading World Championships.
Callan, 46, has been in the sport for 25 years and had been considering stepping down this year.
But he changed his mind after winning golds in Germany in the team flint rifle (prone) and team kneeling matchlock, setting a new world record.
"I was in two minds about carrying on," Callan told BBC Radio Jersey.
"I enjoy it so much and I still have so much more to do, that this has given me another boost, so I'm carrying on for a few more years yet.
"I train whenever I can, there is a lot of travel and a lot of effort, so it was a bit easier in my 20s and 30s.
"The physical effort involved can be difficult, as standing perfectly still doesn't sound hard, but with all of the heavy equipment, it takes it out of you."
Callan's performances in Germany helped Great Britain to second in the medals table, behind the hosts.
The Jerseyman now wants to focus on individual competitions, and has hopes of becoming world champion before he finishes in the sport.
"When I'm not working I seem to be on a ferry, on the way to shoot in England," he added.
"I have to go to the UK to get the level of competition and to train with the rest of the GB team. It's a lot of work, to do it at this level.
"I want to build on my individual scores, I would like to be top three in the world and I won't be complete with my shooting career unless I win a World Championship."