Peter Wilson: GB shooter wins World Cup gold in Al Ain
Last updated on .From the section Shooting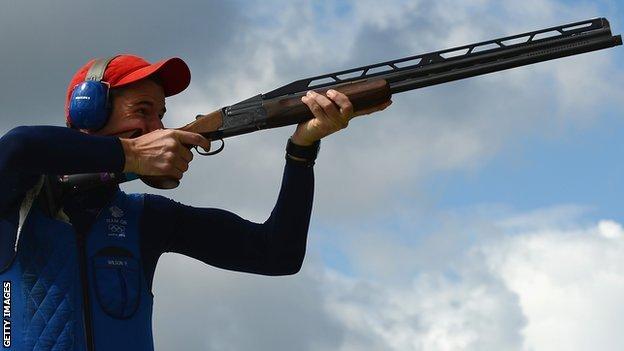 Britain's Peter Wilson won a gold medal at the Al Ain World Cup on his return to competitive shooting.
The tournament is Wilson's first competitive shoot since he won at the Olympics last year.
Wilson said: "There was pressure on me as Olympic Champion. I struggled in practice, but by focusing on technique, I got the best out of myself."
As part of the initial build-up towards the 2016 Olympics in Rio, Brazil, Wilson has been working with his coach, Ahmed Maktoum, on technique and mental strength.
After the victory, Maktoum said the result was "10% towards Brazil, with 90% to go".
High-performance manager, Tim Newenham said: "This is significant success for Peter in his first competition of 2013.
"He started and finished the qualifying rounds with perfect scores and held his technique and focus to record another perfect score in the final. What a boost for Peter and British Shooting."
The medal comes two days after Aaron Heading won gold in the men's trap at the same event in the United Arab Emirates.