Olympic champion Peter Wilson mistaken for whale hunter in Peru
By Ollie Williams
BBC Olympic sports reporter
Last updated on .From the section Shooting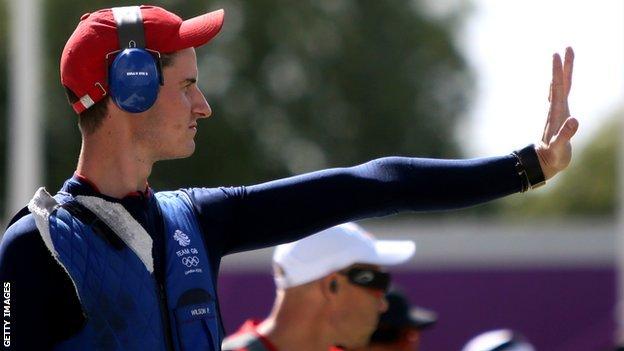 London 2012 shotgun champion Peter Wilson has been accused of illegal whale hunting while travelling to the World Championships in Peru.
Wilson has gone to Lima to coach British junior James Dedman, whose gun was seized by customs on arrival.
"They opened the gun up and the man said: 'You're illegal whale hunters, aren't you?'" Wilson told BBC Sport.
"He insisted we were illegal whale hunters and set about reading us our rights in Peruvian."
Wilson, from Dorset, negotiated with officials for several hours, through an interpreter, before he and Dedman were released - but the gun remains impounded.
"My first reaction was 'you're kidding me'," said Wilson, who has been coaching Dedman for four months.
"I said: 'I'm the Olympic gold medallist.' Eventually I managed to prove who we were, but he wouldn't allow the gun out.
"Everyone has had their gun impounded, bar a handful of competitors - but they singled me out as the ringleader. This guy really believed it."
The gun was transported under Wilson's name as Dedman, 15, is too young to travel with it. The teenager, who is the only British under-21 competitor in the double trap event at the World Championships, will compete on Friday next week.
"He's rather fortunate he's only 15," said Wilson, who has taken a year's break from major competitions since winning the Olympic double trap at London 2012.
"If anyone was going to go down for this, it was going to be me.
"I was just quite happy to leave the airport, if I'm honest. We're going to go back tomorrow and hopefully get the gun back."