Steve Scott wins Shooting World Championships double trap bronze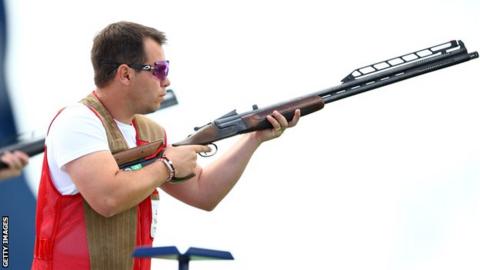 Great Britain's Steve Scott has won the bronze medal in the men's double trap at the Shooting World Championships.
The East Sussex shooter beat Italy's Daniele Di Spigno by a single shot hitting 27 of his final 30 clay pigeons to add to his Commonwealth and European golds from earlier this summer.
"I'm really happy. The World Championships is next in line to the Olympics," Scott told BBC Sport.
"I came here to win but to get a bronze medal is more than good enough for me.
Joshua Richmond of the United States was crowned world champion in Granada with a perfect final round of 30 ahead of Italy's Antonino Barilla, who took silver.
Scott's GB team-mates Tim Kneale and Matthew French fell at the qualification stage.
The 29-year-old's performance, though, was not enough to earn Great Britain another country quota place at the 2016 Olympics.
Scott's terrific 2014
Gold at the Commonwealth Games
Gold at the European Championships
Bronze at the World Championships
But after adding a world medal to his other successes of 2014, Scott was keen to credit the influence of his coach, Sheikh Ahmed bin Mohammed bin Hasher Al Maktoum, who has also coached British Olympic double trap champion Peter Wilson.
Al Maktoum, a member of Dubai's ruling family, won the country's first ever Olympic medal when he claimed double trap gold at Athens 2004.
"I've been working with him for a year and a half now and he is amazing," said Scott.
"I've been shooting for 12 years so I know how to get on in the sport.
"But he's tweaked a few things and now it's come to the point where I'm up there and actually performing rather well."
Earlier at the event in southern Spain, Ed Ling won a sliver medal in the trap event, securing GB's first quota place for the Rio Games.
The championships are taking place until 20 September.