2015 Island Games: Jersey select 37-strong shooting squad
Last updated on .From the section Shooting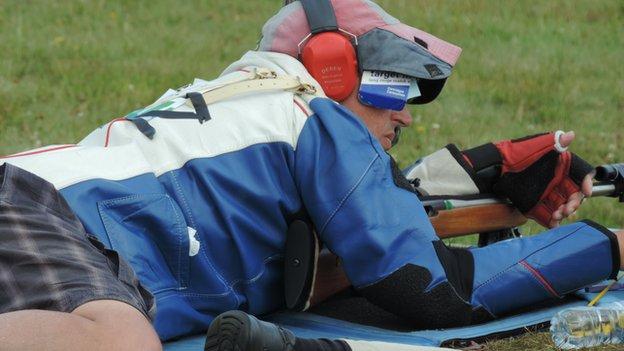 Jersey have selected a 37-strong team of shooters for the 2015 Island Games.
The host island will hope to improve on the three gold medals they won in Bermuda two years ago, with 312 medals up for grabs.
Jersey has eight smallbore shooters and four fullbore shooters, including Barry Le Cheminant who
There will be a 16-strong contingent of pistol shooters while Jersey has selected nine clay-target marksmen.
Jersey shooting team for 2015 Island Games:
Smallbore: Sarah Campion, Sue De Gruchy, Ashleigh Taylor, Andy Chapman, Peter Le Marinel, Steve Bouchard, Nick Le Masurier, David Turner.
Fullbore: Andrew Le Cheminant, Barry Le Cheminant, Bruce Horwood, Fabien Amy.
Pistol: Alain Cabaret, Tobias Cabaret, James Daly, Rachel de la Haye, Francis Devonald, Mick Flynn, Amy Hall, Nikki Holmes, Chris Le Moeligou, Mark Littleton, Mike Nolan, Mary Norman, Richard Pirouet, Mike Quenault, Mick Radcliffe, George Winstanley.
Clay: Mark Andrews, Jon de la Haye, Andrew de la Haye, Freddie Barette, Dave le Rendu, Martin Shales, Avril Rimeur, Caroline de la Haye, Kay Cragg.