Ronnie O'Sullivan hints at quitting after Ryan Day loss
Last updated on .From the section Snooker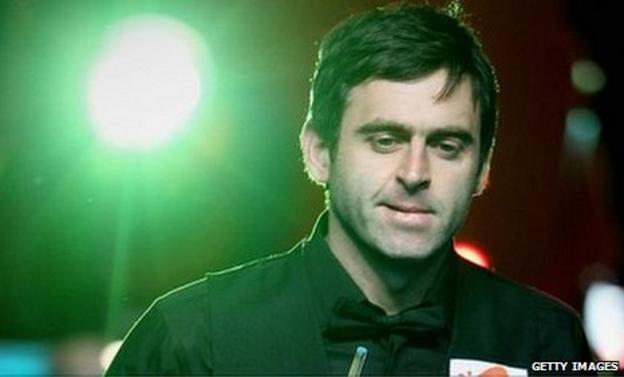 Ronnie O'Sullivan hinted at retirement after his poor run of form continued with a 5-2 defeat by Ryan Day in round one of the China Open in Beijing.
O'Sullivan has now lost in the opening match of his last four tournaments and admitted he was not optimistic about turning his form around.
"I'm not going to say I'm retiring but you never know, it's not looking good," said a dejected O'Sullivan.
Day, the world number 23, now faces Stephen Lee in the second round.
Sullivan, who has fallen to 10th in the world rankings, apologised to fans after the loss.
"I'm disappointed with myself," he said. "I know I get such great support from the Chinese snooker fans but I feel I've let them down.
"I can't put my finger on why but it's very frustrating and certainly no fun for me. I don't know how much more I can take playing like that.
"I've said I would retire before but haven't so I don't want to look silly, but I can't continue to keep playing that way.
"I'm not going to say I'm retiring but you never know, it's not looking good. My form isn't great, there's nothing I can do about it but keep trying."
A delighted Day admitted that he rode his luck against the three-time world champion.
"I'm pleased to have won, but it wasn't a good game and I got quite fortunate on a few occasions," Day commented.
"Not only after I missed a shot, but also when I had a couple of cannons. But you have to accept that and make the most of it, which I'm happy I did.
"Before I played Ronnie in the Welsh [Open] I hadn't beaten him but that's twice on the spin now.
"To beat Ronnie at any time, at any place, is always good and he always comes to most tournaments as being the man to beat."
Meanwhile world number one John Higgins was made to work for his place in the last 16 with a 5-3 win over Nigel Bond.
But Higgins, who will meet either Ricky Walden or Martin Gould on Thursday, believes he must raise his game if he is to stand a chance of winning the Beijing event.
"I felt the conditions were quite tricky but I have to play a lot better if I'm to win the competition," said Higgins.
"I'm playing OK in bits of matches but at other times I'm not playing that great. It was only about 50% today.
"It was a very scrappy match. Nigel had a lot of frame-winning balls and if he had taken his chances then he would have beaten me so I'm sure he will be very disappointed.
"I'm lucky to still be in the tournament and I need to raise my game. But you can't raise your game when you're flying home and luckily I have a chance to do so."
Peter Ebdon, the 2009 winner, is also safely through to the last 16 after a 5-2 win over Gerard Greene.
Ebdon will now face world champion Neil Robertson, an opponent he has previously beaten at the event.
"I played some good safety and it's nice to get that one out of the way and I'm already looking forward to the next match," said Ebdon.
"I beat Neil out here before and I won 5-1 but he made a maximum. He looks to be coming into form at the right time.
"It's all about peaking at the right time so I'm hoping I'm going in the right direction as well."
In other matches, Judd Trump notched a 5-3 win over Hong Kong's Marco, and Ali Carter eased to a 5-1 victory over fellow Englishman Stuart Bingham.