World Snooker 2011: Five players to watch
From the section Snooker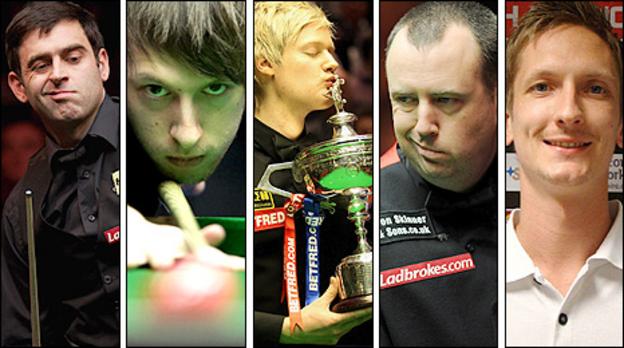 Neil Robertson faces high-flying Judd Trump, fresh from his Chinese triumph, as the Australian begins his defence of the World Championships with an intriguing first-round clash.
With two Crucible debutants Andrew Pagett and Jimmy Robertson in action, alongside a rejuvenated Mark Williams eyeing a third crown and a spluttering Ronnie O'Sullivan, the baize drama is guaranteed.
So who will be making the headlines? BBC Sport profiles five players to keep an eye on.
NEIL ROBERTSON
The 'Thunder from Down Under' has had a wobbly season since becoming the first Australian to win the world title last year.
Since bagging the World Open crown in Glasgow last September, the 29-year-old has failed to go beyond the second round of the last three ranking events. Stinky form in anybody's book.
Has becoming a dad (he has a baby boy 11 months old) hindered the rise of Robertson? Will the pressure of arriving in Sheffield as world champion prove too much?
Verdict: Three big motivations why Robertson will still have the fire in his belly. To become the first first-time winner to defend the world title. To overcome the agony of his country's Ashes loss. To regain the world number one spot back off John Higgins.
Forget the jittery form. He did the same thing last year, and just knowing he has the skills and temperament to come through this 17-day marathon should still make him a very dangerous animal. Think roaring croc, not a misfiring Kangaroo.
Did you know? He's a big Chelsea fan and loves listening to Metallica, Timbaland and Guns N' Roses.
How did he fare? Lost in the first round, 10-8 to emerging talent Judd Trump
RONNIE O'SULLIVAN
All eyes will be on the three-time world champion. Having slipped to 10th in the rankings after a miserable season, what fireworks will the 'Rocket' dish up this year?
Talk of early retirement never goes away, but the former number one will hardly be buzzing with confidence having lost in the first round in his last four tournaments.
A fading star or a legend ready to reignite his skills? Is the stage set for this unpredictable 35-year-old to claim a fourth world crown 10 years after his first Crucible triumph?
Verdict: There is no doubt facing O'Sullivan is not the fearful event it once was. Dominic Dale, world number 32 and first round opponent, says: "I'm playing Ronnie at a good time. He hasn't done a lot the last six months."
Dormant for half a year maybe, but never rule this boy out. Never. Erratic, electrifying, spell-binding. Rubbish or breath-taking. O'Sullivan is always worth a view, whatever his cue is doing.
Did you know? He plays equally well with his left and right hand and made the fastest maximum 147 break on record at the 1997 World Championships in a time of 5 minutes 20 seconds. Beat that.
How did he fare? Lost to John Higgins in the quarter-finals
MARK WILLIAMS
This Welsh dragon is back roaring again. A world ranking of 47 two years ago and rumours of hanging up his cue were rife.
Not any more. Williams opened this season with victory in the first event of the Players Tour Championship, before nibbling further success in the first ranking event of 2011 in the German Masters.
Losing 10-9 to John Higgins in the UK final after leading 6-2 and 9-7 may still be haunting Williams, but now's the time to look ahead and start preparing for an assault on securing the title he last won eight years ago.
Verdict: It's been a season of more ups than downs and his form is, overall, pretty hot. Williams may have lost 5-4 to Stephen Lee in the first round of the recent China Open, but four centuries in that defeat suggests there's nothing wrong with his smooth left-handed cueing arm.
Can the player known as 'Sprog' add to his 2000 and 2003 world titles? Never be fooled by that relaxed demanour. He'll be bang up for this, despite facing compatriot Ryan Day in round one.
Did you know? Williams was previously known to be a little "wild off the table" with a taste for fast cars. These days he prefers motorbikes and playing five-aside football.
How did he fare? Still in the tournament.
JUDD TRUMP
The Bristolian youngster seems to have been around for years and he finally seems set for the big time. The player nicknamed Mr Haircut 100 is making only his second trip to the Crucible four years after his debut.
And his opening opponent doesn't come much bigger than the defending world champion. Trump will fear nobody though, being fresh from scooping his first major title in Beijing with to add to the Euro Players Tour Championship crown he won in August.
The 2002 world champion Peter Ebdon, after losing to Trump in China, said: "Judd is incredibly talented and I don't know of many better cueists out there - he's a very entertaining player." Big words.
Verdict: When's he on his game, there is little that can stop the man with the finest hair on the baize. On his way to Beijing glory, Trump knocked in his 100th competitive century break and just shows the damage his left arm is capable of when he's in the balls.
A stunning break builder, an explosive potter and he'll be a great outside bet for causing some upsets in Sheffield. Robbo, you have been warned.
Did you know? At the age of 13, Trump impressed in an IQ test and beat Albert Einsetin's score by two points. Less than a year later, he became the youngest player to make a competitive maximum 147 break, beating Ronnie O'Sullivan's record from 1991. Clever boy.
How did he fare? Still in the tournament.
ANDREW PAGETT
This Crucible debutant has nothing to lose. Only two years ago he lost his place on the pro tour and now is set for the sport's biggest stage in his first major ranking event.
The player known as the Welsh Wizard has a whole bag of skills and he's got practice partner Mark Williams to thank for many of those.
Pagett had to come through four qualifying matches to make the worlds, which included a 10-9 win over Nigel Bond in the last 64. Coolness. Few people are giving him any hope but he's just delighted to be there. Freeze or a breeze?
Verdict: When he made his TV debut at the Six Reds World Championship in December 2009, the MC needed to rifle through his notes to find his name. Will Pagget be the forgotten man or are there more shocks in store?
He said in the worlds build-up: "Even if I lose 10-0 I can always say I played at the Crucible." A relaxed Welsh amateur champion, though, could turn out to be a very dangerous beast.
Did you know? Pagett will become the 178th player to walk into the Crucible arena in Sheffield and is one of five Welsh players making the event, equalling the record set seven years ago.
How did he fare? Lost in the first round, 10-7 to Jamie Cope
Compiled by BBC Sport's Mark Ashenden who will be tweeting from the World Championships.