John Higgins a 'stronger person' after tough year
Last updated on .From the section Snooker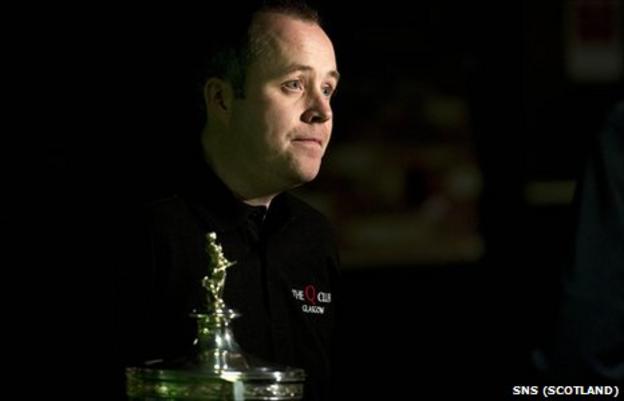 John Higgins says he has become stronger after one of the most difficult years of his life.
The world number one lost his father to cancer and he was also given a six-month ban for bringing the game into disrepute.
"I think as a person I'm definitely stronger for what I've been through," Higgins told BBC Scotland.
"It's given me a little more appetite or determination. I'm just trying to do my best."
Higgins was suspended after being filmed, along with his former manager Pat Mooney, allegedly accepting bribes in exchange for agreeing to alter the outcome of frames.
An independent body, Sports Resolution, and the World Professional Billiards and Snooker Association dropped dishonesty charges but judged that Higgins had brought the game into disrepute for not reporting the approach.
His punishment was a six-month ban, backdated to May 2010 when he was originally supsended, and a fine of £75,000.
The Wishaw player returned to competition in November and won the sport's second-biggest tournament, the UK Championship, the following month.
On Saturday, he begins his bid for his fourth World Championship title at the Crucible in Sheffield.
"I think you're always nervous before you go down to the Crucible," said Higgins ahead of crushing Stephen Hendry 5-0 in the semi-final of the Scottish Championship.
"You don't know how you're going to react or play. I've just got to go down and do my best.
"It's a wide open tournament, everyone will fancy their chances and I'm no different.
"I feel, if I play well, I could do well in the tournament."
Higgins will be joined in Sheffield by five other compatriots - Hendry, Graeme Dott, Stephen Maguire, Marcus Campbell and Jamie Burnett.
"It's great that we have six Scottish boys going down to the biggest tournament of the year," he said.
"It's good for Scotland. I think all the players just can't wait to get to the Crucible now.
"Myself and Stephen Hendry have won it many times.
"Graeme Dott has as well and loves playing there.
"And you've got someone as talented as Stephen Maguire, who hasn't won it yet, but I'm sure it will happen sooner or later."