World Snooker 2011: Champion Robertson felled by Trump
By Mark Ashenden
BBC Sport
Last updated on .From the section Snooker
Defending champion Neil Robertson crashed to a 10-8 first-round defeat by Judd Trump in the World Championship.
Robertson was looking good at 7-6, but the 14th-ranked Judd won the next three frames before sealing a famous victory.
Debutant Andrew Pagett, in his first major tournament, trails Jamie Cope 5-4 and twice former champion Mark Williams leads fellow Welshman Ryan Day 6-3.
Ali Carter heads Dave Harold 8-1, while Shaun Murphy cruised to a 9-0 advantage over Marcus Campbell.
It was an enthralling opening day for the packed Crucible audience, who witnessed the shocking pink suit of Pagett, ranked 80 in the world, and the drama involving the rise and fall of the defending champion.
Arriving in Sheffield on the back of his stunning China Open success had Trump in high spirits and, despite several wayward shots, his potting ability and verve proved enough to see him over the line against last year's winner.
"I had high expectations and I gave it my best," the 21-year-old Trump said. "I missed a few balls but I kept my composure. I'm on a high at the moment and I don't want it to finish. I want to make winning a habit."
Robertson had not failed to get beyond the first round since 2005 and he became the seventh player to lose his first match when defending the world title.
The pair looked nervy with a number of uncharacteristic misses as they shared the first four frames, but it all turned around with five frames of largely stunning snooker after the mini break.
Trump took full advantage of an outrageous fluked red involving three pockets to produce an effortless run of 122 to get his nose in front at 3-2, only for his opponent to hit back with a 127.
And with the Melbourne left-hander bagging his second ton at the end of the first session to reduce the deficit to 5-4, you sensed Trump had missed his moment.
It soon got worse after the interval, as a missed pink by the world number 14 when on 54 allowed the first of Robertson's miraculous frame snatches. Although a smooth 70 stemmed the flow to help Trump regain the lead at 6-5, the wheels fell off the rising star yet again.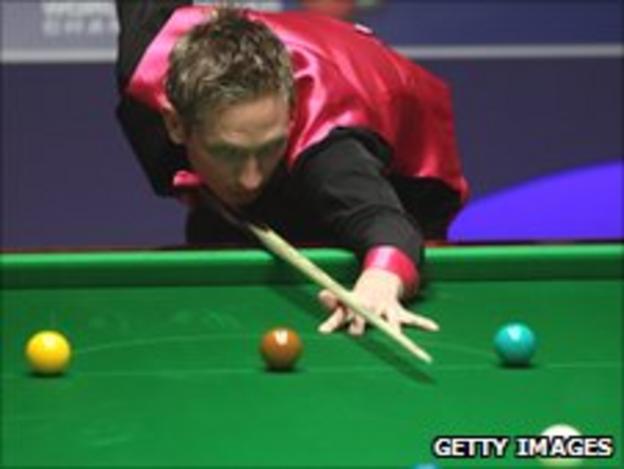 Cruising on 58, Trump had to watch in horror as an easy black wobbled in the jaws. Robertson pounced and produced a remarkable 59 clearance and his pumping fists and roar showed just how much clinging on to his world crown meant.
A 90 had Robertson ahead for the first time since the opening frame at 7-6, but Trump, the player known as 'Haircut 100', proved that he is more than just a flashy potter as he dug in to secure three successive frames with a 67 and 75 to get within one of victory.
Robertson had a brief recovery to claw one frame back thanks to a fluked red when trailing 53-0, but Trump was not to be denied and secured glory with a cool 83 on only his second visit at the Crucible since his 2007 debut.
It was more frustration for Robertson, who won the World Open in September, and he rued his errors in the first session.
"Certain mistakes cost me but I was on a hiding to nothing following his China Open win. I can't have sour grapes, I've had a good run here," the 29-year-old said.
"Overall I'm disappointed with the result but I played well. He was brave with his shot selection and he handled it well. Hats off to him. If he plays like that he won't be having many problems until the semi-finals."
However, the Cambridge-based player added: "I don't think he's ready to win the tournament yet. But you never know. He'll probably need another three years."
Trump will play Martin Gould or Marco Fu for a quarter-final spot and added: "I loved it today. This place is different to anywhere else. I just go out there and not worry about missing a few balls."