World Snooker: Is Ronnie 'Rocket' O'Sullivan reignited?
By Mark Ashenden
BBC Sport at the Crucible
Last updated on .From the section Snooker
The Ronnie O'Sullivan circus is rolling into town. Will he be up for it? Will he quit? Do fans still care? The usual questions are being feverishly asked by fans, media, commentators, even players, at the start of snooker's World Championship.
But let's not forget that it appeared quite possible he wouldn't be playing at all. Less than two weeks ago he told snooker's governing body that he wanted to pull out of the tournament only to change his mind last week ahead of Monday's first round clash against Dominic Dale.
O'Sullivan's season has been disappointing. Without a major title for 19 months and no single match victory since November his world ranking has plummeted to 10.
On the back of all the bluster and retirement threats, the time has come for the latest drama to unfold on the sport's biggest stage. Will the Sheffield baize spark new life into the spluttering 'Rocket'?
"His frustrated fans will be desperately hoping he will pick himself off the floor for the Crucible," says Steve Davis. "These championships may be enough to switch the switch. All eyes are on him and enough questions and doubts have arisen. This could be the catalyst for Ronnie to knuckle down.
"He could win 10-0 because he's that type of person. But mentally he has to be ready. All the talk has been reflected by the price of the bookmakers [he's third favourite behind John Higgins and Mark Selby at the time of writing].
"The fans are waiting to see what Ronnie does. If he wins and shows a different attitude then that may change. But for the first time ever, they haven't put their money up front."
The immediate signs of recovery are not promising. Defeat in the China Open in March was O'Sullivan's fourth successive first-round defeat. He has withdrawn from 10 of the 12 minor ranking events in the PTC series and pulled out a day before February's German Masters, despite it being his face on the promotional posters.
Personal issues have also proved complicated and emotional with a custody battle over daughter Lily Jo and son Ronnie, and the recent release after 18 years of his dad from prison bound to take a toll.
"You look at him and come to the conclusion he's fallen out of love with the game," adds six-time World Championship winner Davis, who missed out on playing in this year's event at the age of 53 for the first time since turning pro in 1978.
"He doesn't seem to be enjoying practice or the challenge of tournament play. He's one of the best under pressure but if he's not enjoying what he does for a living then there's an underlying problem he has to address.
"It's swim or sink. As a player it would be frustrating to inherently love the game but not love the game. He has to resolve the problem, if he is prepared to."
Davis admits that while many people in the sport want the 35-year-old to bounce back, there is a growing boredom with the O'Sullivan circus that can at times lead to a "sense of relief" when he loses. "It's not right, but that's the way it is," says the 'Golden Nugget'. Suggesting there could be an element of mind games behind O'Sullivan's protestations, a wry Shaun Murphy called his likely second round opponent a "clever boy".
With sympathy towards O'Sullivan perhaps in shorter supply than previously, Davis continues: "You look at him and think how much he can brighten up the event should he get on a roll. We've been hoping that happens for a while now and just getting deflated. If a non-trier is not going to try, you ask yourself if you're still bothered."
And so it's crunch time for the player many regard as the most naturally talented to grace the baize. "He's at a crossroads," Barry Hearn said recently.
Hearn is a lifelong fan of the former world number one and three-time world champion but, as World Snooker chief, has concerns for the sport's commercial interests and warned recently it was "last chance saloon".
"He has to pack it all up completely or have the mental strength to say I'm sorting this out," said the darts promoter and Leyton Orient Football Club chairman. "I need the real Ronnie. I don't need him pulling out of tournaments the day before. That won't be happening again. It's three strikes and you're out. He's a couple of strikes down."
There is hope. Could it rest with a man who guided Britain's cyclists to gold in seven of the 10 events at the 2008 Beijing Olympics and confesses to never watching sport on TV?
Steve Peters, sport psychiatrist and psychologist, has agreed to spend time with O'Sullivan and has already had a preliminary chat on the phone. He calls himself the "mechanic of the mind" and cyclists Chris Hoy and Vicky Pendleton say they would not have become Olympic champions without his help.
Dealing with anxiety, self-doubt and fears is his game and as well as working with England's rugby team, footballers and cricketers, Peters is guiding Britain's Sarah Stevenson, who battled to Olympic taekwondo bronze with a twisted ankle in Beijing three years ago and is now eyeing gold at London 2012.
With O'Sullivan having achieved some success with psychological guidance from six-time world champion Ray Reardon, Stevenson provided an insight as to what he might be letting himself in for.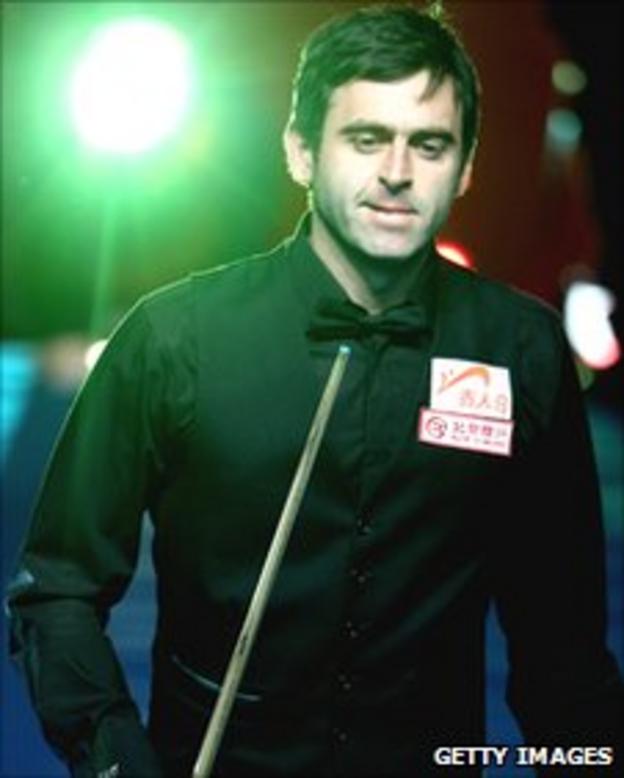 "Steve will help get rid of all the emotions and thoughts in your life and get you to just focus on what you have to do in training or day of competition," the 28-year-old from Doncaster told BBC Sport.
"You get out everything. Thinking about nerves or how good your opponent is will not help you focus on the job. Once you get rid of the negative thoughts, you can focus on yourself, get in the zone and be ready to perform. Steve helps you enjoy it."
Stevenson also revealed how she had learned to deal with the "inner chimp" - Peters' description of the irrational and emotional side of the personality that stifles performance. He once said elite athletes could be categorised as Labradors, Rottweilers, Alsatians or poodles.
"Before I met Steve in 2007 I never did mental work. I was driven and survived and I won many tournaments but I didn't really enjoy it," Stevenson added. "Now, on competition day, if I'm in the right mind, I know I will be amazing - win or lose.
"I enjoyed fighting when I won but not the whole fight. It's my living and I should always enjoy it. I've heard Ronnie's the most talented player and he needs to believe he is. Talent doesn't go away. Hopefully he can take out all the rubbish and focus on how amazing he is.
"It's his choice to be emotional and not logical. Or he can be logical, speak the truth and just go for it. He has to choose how he wants to be mentally."
Many of Peters' clients suggest at least a year is needed to benefit from learning to live with such "demons" and "chimps" and Davis hopes O'Sullivan has the patience to stick it out.
"Things happen in the short term but it needs to be longer because the sport is going places worldwide," he said. "It would be nice if Ronnie's onboard, but it needs to go beyond just one tournament.
"He's still box office and it only takes one event to get back on track again. Perhaps he just needs a challenge. Should the challenge be that he's written off and comes back? Or drop out of the game and then come back again where he's created his own challenge?
"I would never criticise Ronnie for what he chooses. It's his choice to turn up at a tournament, but at some stage he will have to make a choice. I just don't know which way it's going to go."
The choices await. Will it be chump or champ?