World Snooker: Williams unhappy with 147 prize removal
Last updated on .From the section Snooker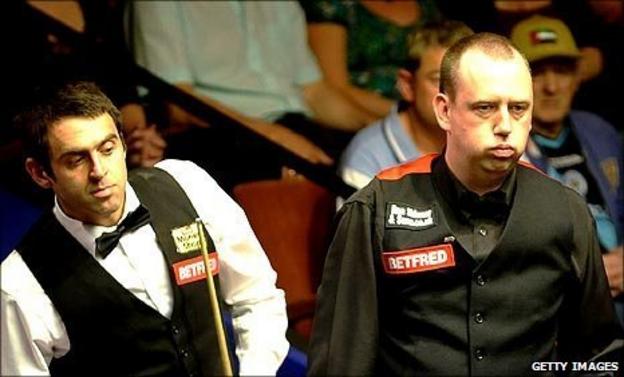 Mark Williams thinks snooker could suffer because of the withdrawal of the substantial cash bonus for a maximum 147 break at the World Championship.
The 36-year-old Welshman achieved that feat in 2005 but says he would not bother trying now after the removal of the £147,000 prize.
"It's terrible," he said. "Apart from Ronnie O'Sullivan... a lot of other players aren't going to attempt it.
"That's what people come to see, big breaks. The chance of a 147."
The prize for a maximum break, which has only been achieved nine times in the tournament's history, has been scrapped by governing body World Snooker in a cost-cutting move this year.
But former champion Williams, who hit his own 147 against against Robert Milkins, fears Crucible audiences may suffer by missing out on a magical moment.
"Even if it was £20,000 for a maximum break, it's got to be something," he added.
"Surely they can knock £20,000 off the top prize fund and give it for a maximum. I'd never even think about going for one."
O'Sullivan begins his potentially difficult second-round match against Shaun Murphy on Saturday, as the pair battle it out to join Williams in the quarter-final line-up.
Williams strolled through to the World Championship last eight on Friday with a comprehensive 13-4 victory over Stoke's Jamie Cope.
Follow BBC Sport Online's snooker man Mark Ashenden on Twitter