World Snooker: Ronnie O'Sullivan leads Shaun Murphy 6-2
Last updated on .From the section Snooker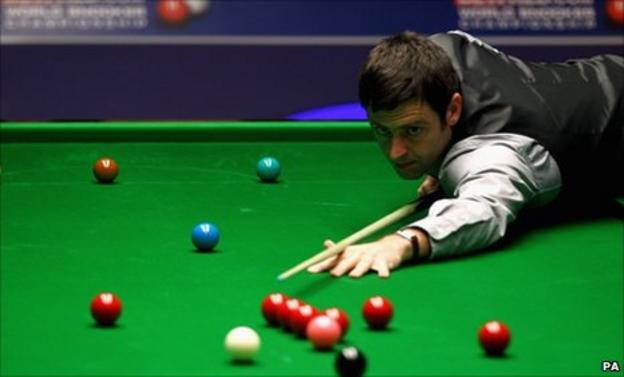 Ronnie O'Sullivan built a 6-2 lead over Shaun Murphy after the first session of their World Championship second round match at the Crucible.
Without fully reaching his magical best, the three-time champion quickly moved 3-0 ahead against an out-of-sorts Murphy, who won the title in 2005.
Murphy reduced the deficit to 3-2, but O'Sullivan fired runs of 76, 75 and 86 ahead of Sunday's second session.
Another former champion, Stephen Hendry, trails Mark Selby 7-1.
The pair traded century breaks early on but Hendry had no answer as Selby's mesmerising breaks of 125, 108, 98 and 129 left the seven-time champion in desperate trouble and in danger of going out with a session to spare.
It could be a painful exit for Hendry, who looks to be heading out of what could be his final Crucible visit as a player, having admitted retirement is an option for him.
O'Sullivan and Murphy, meanwhile, had met only once before in a ranking tournament, at the 2007 Grand Prix, when O'Sullivan prevailed 6-5.
O'Sullivan made a magnificent start after a loose break from Murphy and soon split the pack with a fizzing screw shot.
Although the break ended on 58 when he over-screwed the cue ball when potting the pink and it drifted into the bottom corner pocket, Murphy later missed the final green which O'Sullivan duly potted to secure the frame.
It was Murphy who went "in off" in the second frame and O'Sullivan took advantage with a break of 47.
Murphy was 51 points ahead in the third before O'Sullivan replied with a 40. Murphy, using the rest, then left a red in the jaws of the bottom corner and 'The Rocket' cleared to the pink with a 28.
O'Sullivan fluked a red in frame four but the break ended on 25 and just when Murphy looked to be finding some rhythm he left a pink in the jaws of the bottom corner on 33.
But a fine long yellow soon allowed him to open his account and after O'Sullivan missed a black when well set, Murphy capitalised with a decisive break of 78, his best of the match thus far.
However, O'Sullivan moved further ahead courtesy of a 76 and he then increased the gap to three frames after a smooth run of 75.
The 35-year-old world number 10 ensured an even more comfortable advantage going into Sunday's second session at 1430 BST with a stylish 86, his best break of the contest so far.