World Snooker: Williams vows to step up in quarters
Last updated on .From the section Snooker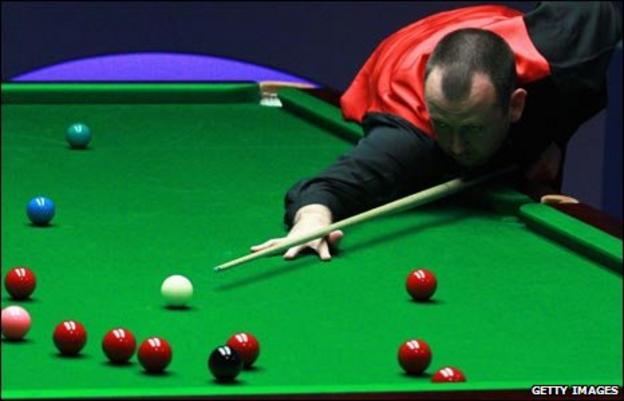 Mark Williams makes his first Crucible quarter-final appearance in five years insisting he must to step up "another level" to win a third world crown.
The world number two faces Mark Allen in a last eight clash at 1000 BST on Tuesday admitting he "would not get too over-excited" about his form.
Williams said: "This tournament doesn't really start until the second week and I have forgotten what it feels like.
"It has been a long time. But I have a good a chance of winning as any."
Williams won his first World Championship title in 2000 when he beat fellow Welshman Matthew Stevens in the final - the year after losing to Stephen Hendry in the Crucible showpiece.
Then Williams ruled the world again in 2003 when the cueman from Cwm held off a Ken Doherty fight back to secure his second World Championship triumph and cement his number one world ranking.
But the two-time Masters winner suffered a dramatic dip in form and dropped out of the top 16 due to a lack of desire before Williams kick-started his second coming by winning the 2006 China Open title.
Williams has since won the 2010 China Open and the 2011 German Masters, as well as coming runner-up to John Higgins at the 2010 UK Championship, as he has moved back up to number two in the world.
The 36-year-old was one of the pre-World Championship favourites and now joins three-time winners Ronnie O'Sullivan and current world number one John Higgins - who play each other - in the quarter-final.
And Williams' bid to join O'Sullivan, Higgins and the great John Spencer on three World Championship title wins starts in earnest when he graces the quarter-final again against world number 11 Allen on Tuesday in Sheffield.
"I'll try my best and see if I can get any further," said Williams who has beaten Ryan Day and Jamie Cope at this event so far.
"My form is okay, I wouldn't get over excited,. I didn't play that great against Cope but I am playing consistently.
"But I'll have to go to another level if I want to get further in this tournament. I know I have the gears there, I just have to change up to them at the right time.
"I've missed playing in the quarter-finals in the last five years as I've had to watch them at home. So it is nice to be still in it.
"Mark Allen is a tough player but I will just play the balls rather than the player - and if the crucial balls go down at the crucial times, I will have a good chance."
Williams, though, will have the toughest semi-final opponent should he beat Northern Ireland's Allen as he would face the winner of the O'Sullivan v Higgins showdown.
Follow BBC Sport Online's snooker man Mark Ashenden on Twitter