Snooker's new wonder boy Judd Trump
By Mark Ashenden
BBC Sport at The Crucible
Last updated on .From the section Snooker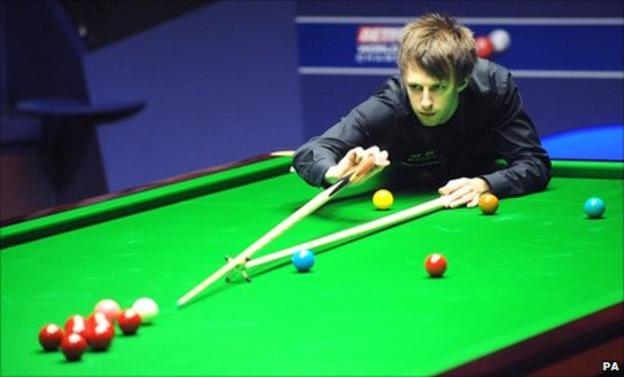 Snooker has found a new hero. Not since Jimmy White and Ronnie O'Sullivan has a player captured the public's attention like Judd Trump has done over the last 17 days at the Crucible.
John Higgins was magnificent in securing a fourth world trophy, but it was the 21-year-old from Bristol that has left players, supporters, media and kids not even fans of the baize drooling with admiration.
Following Trump's agonising yet mesmerising 18-15 defeat on Monday, six-time world champion Steve Davis said: "O'Sullivan is a genius, but I have to say this guy Judd Trump is making my jaw drop more than anyone I have ever seen."
O'Sullivan, winner of the title three times, tweeted during the final: "Judd's greatest asset is his game terrifies people. Never seen anyone pot so well. Scary."
Meanwhile, six-time runner up and a fellow left-hander White tweeted: "He's so entertaining and I love his flair shots. Reminds me so much of myself at his age."
The 35-year-old victorious Higgins also paid tribute: "We've got a new star. Oldies like us will get pushed aside because he's the future. He's the new wonder boy the sport's been looking for."
Winning a four weeks ago showed signs that after four years of promise, Trump could finally fulfil his potential. Sheffield has seen him blossom.
So what is it that has captivated and charmed all those witnessing Trump in recent weeks and helped his Twitter following jump from 3,000 on day one of the World Championship to 25,000 at the end of the incredible final?
Social networking for starters. His interval tweets have become a revelation. And what better time to start tweeting than when you are facing defending world champion Neil Robertson in the first round.
"Nervy start but gotta take 5-4 powwow!" Trump revealed, and after a wobble which led to his super-charged Australian opponent edging ahead at 7-6, another tweet read: "Now that is a serious couple of twitches!"
It was a shock to read such an open and honest appraisal by a top player, but over the tournament the tweets became a running theme, a topic of hot debate, and did nothing to dampen his already growing fanbase.
Quite a contrast to the quiet meditation and cups of tea Steve Davis enjoyed during his breaks.
The thing that has forced 'box office status' on to Trump is the smooth movements of his left arm and magical wooden wand.
Ten century breaks and countless swashbuckling long pots left all of Trump's five opponents reeling. His 110 at the start of included five incredible shots with one screwed red on the cushion that few players would have dared go for.
Those opening frames were described by Davis as "the best first session you're ever likely to see".
Reminiscent of the fearless and attacking play of the 'Whirlwind' White in the 1980s, the free-flowing and seemingly care-free style of Trump appears to have revolutionised the game.
"The modern player has emerged," said Davis. "We've seen Judd move up through the gears and he's come here and absolutely annihilated the game.
"He's brought a different standard than we've seen for many a year in the shots he takes on - those that are considered to be the right and wrong shots. Shot selection has gone out of the window with Judd!"
Stephen Hendry, the only player to have reached a world final at a younger age than Trump [in 1990], added: "His play is very aggressive. He goes for his shots and he's on the crest of a wave.
"There are things he'll need to improve on but at the moment you wouldn't want to change that.
"Safety shots don't get you points and Trump has been potting them off the lampshades. I went for shots just as crazy when I was the same age as Judd. He's so confident of getting them, he's not even thinking of any consequences."
One shot that may just give this spiky-haired left-hander nightmares is the tricky blue on the cushion he attempted in frame 22. Higgins pounced and a 12-9 lead swiftly turned into a 14-12 deficit. It was the major turning point.
Although Hendry feels Trump's game will naturally become more cautious with age, for now, the Romford-based youngster won't be changing his style.
After the final on Monday night, Trump said on the decision to go for the blue: "I went out and played like I had been throughout the competition. I'm glad I didn't change my game.
"Those shots got me this far and to change my game plan would have been stupid. I enjoyed it, the crowd enjoyed it and that makes me happy and that's what makes me want to play the game."
Higgins also vindicated Trump's shot selection by saying: "He played a brand of snooker I've never seen in my life. I was frightened to death to even play safe because I knew he was going to knock them in."
So where did this free spirit come from? Since Trump stood on a box aged six to play on a full-size table, his mum and dad have watched their son compete all over the world and carefully nurtured his talent.
As a teenager, Trump became the English Under-13 and Under-15 champion and, at the age of 14, the youngest player to make a competitive 147 - beating O'Sullivan's 1991 record.
It has been a slow rise since turning professional aged 16, but a move away from his family 15 months ago to Essex - where he practises with 'The Rocket' O'Sullivan at the Grove Snooker Academy - is now taking him to new levels.
Trump's manager Django Fung said: "When I first saw Judd, he had a unique cueing action no one else had and I knew he didn't need coaching. He is the most naturally gifted player since Ronnie."
Having watched Trump play one too many plants 12 inches apart, the pair came up with a list of areas he needed to work on at the end of last season.
"They were shot selection and building up his safety game," Fung said. "I needed to convince him that a good safety game provided more chances and more time to pot balls.
"He has been the hardest working player at the Academy and during this season I could see he was changing. He wasn't scoring as much but he persevered and he's tougher now and it's paid off."
With a close, supportive family and a manager who has dealt with the likes of O'Sullivan, it appears Trump is in safe hands.
"I need to manage his schedule so he doesn't burn out, but he also needs to enjoy life as well as snooker," said Fung who added that he wouldn't be encouraging Trump to purchase a Lamborghini just yet.
White insisted Trump would definitely win a world crown if nightclubs could be avoided, and Hendry, who won his first world title aged 21 in 1990 and his seventh and most recent in 1999, urged similar caution.
"You have to have the right support team behind you," the 42-year-old Scot said. "You need to be careful. His career comes first and his family will be crucial in keeping his feet on the ground.
"If he wants to be world number one and the best player in the world then snooker has to be priority.
"He has to make sacrifices. But if he just wants to have fun and win the odd tournament then good luck to him."
For a player who has smiled throughout this World Championship, including the moment he trailed 17-15 to Higgins, it seems Trump's meteoric rise will continue.
"I love the game," Trump said. "I just want to enjoy myself and have fun. Some shots people won't think are right but I want to give the crowd a good show and get new people into the sport.
"That's how I started. Ronnie was that person when I was growing up and hopefully people will get into the game because of me.
"But you're only remembered when you win titles. Nobody remembers the losers and I need to go away, work on things and come back stronger."