Snooker bet probe into Scots duo set for prompt verdict
By Phil Goodlad
BBC Scotland
Last updated on .From the section Snooker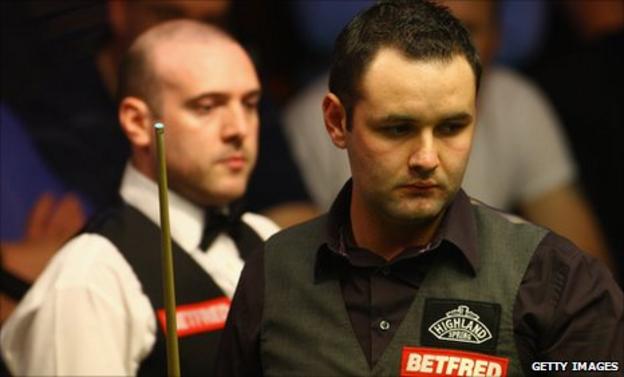 Snooker's governing body wants a swift resolution to its investigation into Stephen Maguire and Jamie Burnett.
"We will be looking to act very quickly," said World Professional Billiards and Snooker Association chairman Jason Ferguson.
"But we have to look at this from a regulatory point of view."
The Procurator Fiscal at Hamilton, Lanarkshire, confirmed on Wednesday that there was insufficient evidence to justify a criminal prosecution in relation to the match played in Telford on 15 December 2008.
World Snooker was alerted by bookmakers to unusual betting patterns before the match, with large sums being staked. The final result was 9-3 in Maguire's favour after Burnett missed a black in the 12th frame that would have cut the deficit to 8-4.
Both players have strenuously denied any wrongdoing.
The Crown Office in Scotland has now handed the file over to the WPBSA to conduct its own inquiry.
"It's difficult for me to comment because we haven't been party to any of the evidence," Ferguson told BBC Scotland.
"The fact that it was a criminal investigation means we haven't been involved at all.
"We will get our first look at it, some three years on, and our chairman of disciplinary proceedings, David Douglas, will start the process off.
"There is a considerable amount of paperwork to look through but we hope to bring it to a close fairly swiftly."
World Snooker chairman Barry Hearn was delighted at the news that Maguire and Burnett will not face criminal proceedings but expressed frustration at the length of time it has taken for this conclusion to be reached.
However, the duo could yet face punishment from the WPBSA.
"There are issues within our rules like you must play to the best of your ability," added Ferguson.
"Is there still a cloud there? Maybe. We will act appropriately to make sure we are a clean sport."
Quinten Hann was banned for eight years after being found guilty of throwing frames in 2006, while four-time world champion John Higgins was suspended last year as World Snooker investigated a newspaper report that he had discussed the possibility of fixing frames in return for money.
Higgins was cleared of match-fixing but was given a six-month ban and fined £75,000 after being found guilty of bringing the sport into disrepute for failing to report the approach.
"We have made a huge amount of progress over the last 12 months in terms of anti-corruption policies in our sport," explained Ferguson.
"We educate our players in the dos and don'ts and we have an induction programme for new players.
"It's really about education for us. We're looking to make sure that our players are clear on what their responsibilities are within the sport and the penalties, if they don't listen to those rules, are severe.
"Every case is different and our rules are very tight and very strict. A lifetime ban is obviously the maximum penalty and our players have been told."