Scotland beat Thailand at the Snooker World Cup in Bangkok
Last updated on .From the section Snooker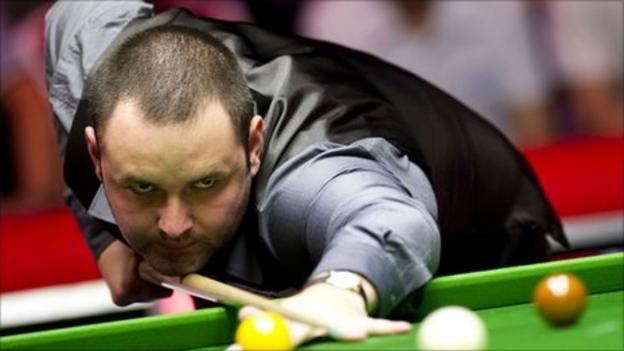 A battling display by Scotland saw them beat Thailand 2 to edge closer to the quarter-finals of the Snooker World Cup in Bangkok.
Despite losing the first two frames world champion John Higgins and Stephen Maguire battled back to win 3-2.
But Higgins admitted the tie had been tough and claimed the Scots had, "got out of jail".
Should the Scots make it through they can expect to face England or Northern Ireland.
"I was lucky to win my frame," Higgins told World Snooker's website.
"Thepchaiya (Un-Nooh) missed a pink and if he hadn't done that I would've lost. To get to 3-2 we've got out of jail again.
"You can't run away with a group and tomorrow is going to be very exciting as, in most groups, there are still two or three teams fighting for the positions, but we only need one frame against Hong Kong to qualify."
Higgins also said he was relishing the prospect of facing higher-profile opposition should they qualify.
"We're feeling the pressure because we're expected to qualify. But England and Northern Ireland will be a 50-50 match so hopefully that will take the pressure off," he said.
Maguire also talked of his relief at getting the result against the Thais.
"A win is a win and we're in a strong position to qualify," he said.
"After tomorrow the tournament has finished for a lot of teams and only eight go through, so, in a way, you're lucky to still be part of the tournament.
"We would've jumped to have been in this position and we've managed to scrape our way through," he added.