World champion John Higgins braced for busy schedule
Last updated on .From the section Snooker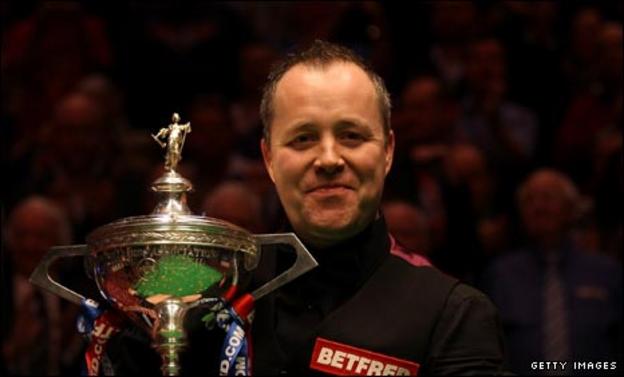 World champion John Higgins feels he needs to get back practising after suffering a shock exit at the Australian Goldfields Open.
Matthew Selt beat the Scot 5-4 in July to reach the last 16 and Higgins intends to put the defeat behind him ahead of the Shanghai Masters.
"After this today I will need to get back to the practice table," Higgins told BBC Scotland.
"Because I have not been doing too well lately. I need to pull my socks up."
Higgins is flying out on Thursday to play in the Paul Hunter Classic in Germany then heads to the Shanghai Masters the following week.
He spoke to BBC Scotland at a charity event to raise money for young snooker players to compete in competitions across the country and emphasised the need for players of all levels to put in practice.
"We are trying to raise as much money as possible for the stars of tomorrow," said Higgins.
"A lot of these young kids have got to go to Europe and Australia and have got to try to raise the money themselves.
"We are trying to put as much money into the pot as possible so that the young kids that do qualify can have all their fees paid for them.
"When I was growing up it was up to the mums and dads to try to get the money for you to come along and compete."
In May 2010, Higgins was suspended after reportedly agreeing to take a £261,000 bribe to lose frames, but was later cleared of match-fixing and won the World Snooker Championship title for a fourth time 12 months later.
He said the ban had a profound effect on his ability to play the game, but he managed to work through it thanks to the support of his friends and family.
"I don't think you'll ever get over things like that," said Higgins "It has probably been the defining moment of my career really.
"It's tough to take but I am trying my best.
"I have had a lot of good support behind me for the past 12-18 months.
"I am trying to get back in there and concentrate on the snooker and make the people who matter to me proud. That's what matters to me now."
Since his 2011 championship win in May, Higgins has competed in tournaments as far away as Australia and Thailand and admits the pressures of professional competition and family life can be difficult to balance.
"Barry Hearn has taken control of our sport and he has been putting more and more events on the calendar, which is great," said Higgins.
"But the players have never really had to try to manage our calendar the way top golfer or top tennis players do.
"We were competing in one tournament every two months but now we have got maybe three or four tournaments each month.
"It is quite hard to juggle because if you have a young family you've got to work your whole calendar around it.
"This year I took most of the summer off and I am only really getting back to the practice table now because it is going to be a long year."