Paul Hunter Foundation seeks new Scottish snooker stars
By Keir Murray
BBC Scotland
Last updated on .From the section Snooker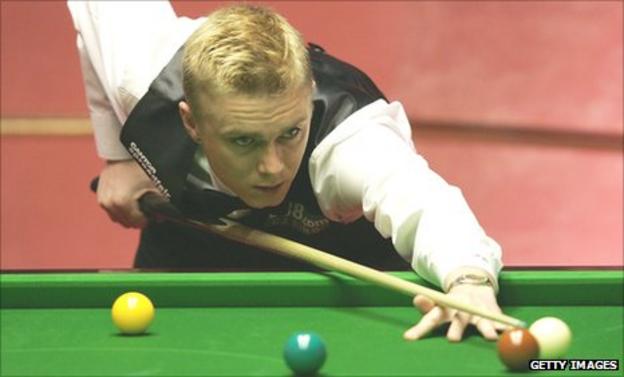 A project to get youngsters off the streets and playing snooker is hoping to attract new recruits in Scotland.
The Paul Hunter Foundation is organising roadshows where aspiring players can meet the top players and try their hand at snooker for free.
Former world champion Graeme Dott will hold sessions in Glasgow on 15 October while current champion John Higgins will do likewise in Edinburgh.
The project began in 2006 in memory of Hunter, who died of cancer aged 27.
Chris Lovell, who is organising the events, told BBC Scotland that he was "thrilled" to be able to spread the foundation's message and was pleased at the support offered by Scottish Snooker.
He said: "Paul's objective, when he set up the charity shortly before he passed away, was to provide free snooker for able bodied, disadvantaged and disabled youngsters across the UK and Ireland.
"It's our privilege to be able to do that in his name.
"The roadshows are all about fun and bringing kids together, getting them off the streets where they can potentially get up to no good and playing the game in a relaxed environment."
Lovell said that when the project went to an area of Accrington, one of the effects of the initiative was a reduction in crime.
"Within three weeks we got 60 a night. Police said there wasn't any crime on the nights we were running in Accrington," he said.
Scottish Snooker says the events chime with its ideas about attracting children to the game.
"Hopefully the roadshows will show our kids that there is some fun and excitement to be had with snooker," said Alan Craig of the sport's governing body in Scotland.
"It is then up to us to maintain their interest in the game."
Children who attend the sessions will receive coaching, play short frames and meet Dott or Higgins, depending on which venue they visit.
There will also be snooker-related English and maths activities away from the tables.
The two-hour roadshows will take place at the Q Club in Glasgow from 1000 BST and at the Shandon Snooker Club in Edinburgh from 1500 BST on Saturday 15 October.