Ronnie O'Sullivan feels 'blackmailed' taking part in smaller tournaments
Last updated on .From the section Snooker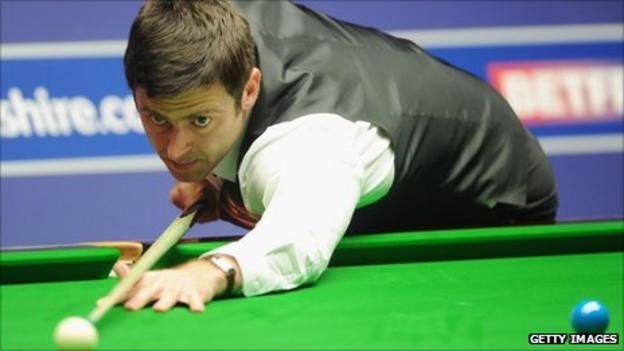 Three-time world champion Ronnie O'Sullivan feels he is being "blackmailed" by the game's governing body making ranking points available for smaller tournaments.
The 35-year-old won the seventh of 12 Players Tour Championship events.
Valuable ranking points have been tagged to the events, created in a bid to address claims that there were not enough tournaments.
World Snooker said there was no obligation to enter the tournaments.
O'Sullivan, who is currently ranked 12, added: "I feel blackmailed.
"They put these ranking events on and ranking points at these tournaments and it just feels like the winner's prize is not great.
"Most players are going there and losing money, but they're putting ranking points on so it's forcing the players to play in it, which is not great, but what do you do? You have to go."
O'Sullivan, who is one of the richest players on the professional snooker circuit with career earnings topping the £6m mark, insisted there are players lower down the ladder who are losing money by taking part in the tournaments.
"The lower-ranked players can't afford it and the top-ranked players don't really get rewarded for what they do, so no-one is a winner.
"But I have to play in them, there's not a lot you can do, you've got to do it. But I don't agree with them."
O'Sullivan beat Matthew Stevens 4-2 in the most recent tournament in Gloucester, earning £10,000 and picking up valuable ranking points as he bids to stay in the world's top 16 for next season - which would mean he would not be forced to qualify for major tournaments.
In a statement, World Snooker said: "We have a responsibility to provide events for all 99 players on the main tour and the PTC events offer playing opportunities for them.
"Players have the choice whether to enter each event.
"The top prize at each PTC may only be £10,000, but the top 24 at the end of the series go through to the Grand Final, when the top prize is £70,000.
"Two seasons ago there were only seven or eight events on the main tour calendar; now there are nearly 30 and total prize money has virtually doubled."