Mark Selby aims to end wait for major title at UK Championship
By Shamoon Hafez
BBC Sport
Last updated on .From the section Snooker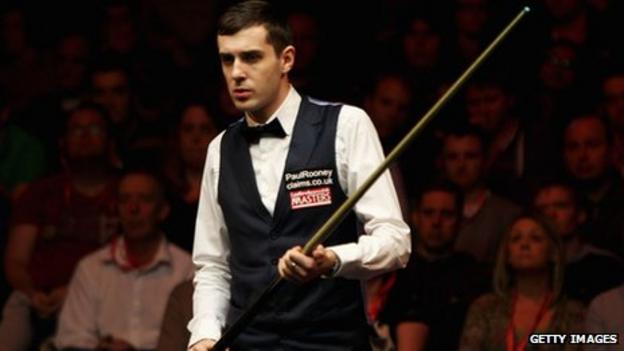 Mark Selby hopes to end his wait for one of snooker's major titles at the UK Championship starting on Saturday.
The 'Jester from Leicester' has risen to world number one after winning three events in a consistent season.
But he is the only one of the top six in the current rankings without a UK or World Championship title to his name.
"They are the two main events that I am always aiming to win. Everyone sees them as the pinnacle of our sport," he said. "It would be nice to win both."
Selby's best effort in the UK, snooker's second biggest tournament after the World Championship, was a semi-final appearance in 2007, when he lost 9-8 to Ronnie O'Sullivan. He also lost to 'The Rocket' in the quarter-finals two years ago.
The 28-year-old has fared slightly better at The Crucible, having reached the final in 2007, and another semi-final in 2010.
Twice a Masters champion, Selby won his second ranking title in September this year at the Shanghai Masters, having also won the Wuxi Classic in China in July and the Paul Hunter Classic in Germany in August.
The UK Championship is the first ranking event since Shanghai, and the third of the season, Stuart Bingham having won the other, the Australian Open back in July.
Since Shanghai, the players have competed in the Brazilian Masters and six further Players Tour Championship (PTC) events, including ones in Poland, Ireland and Belgium.
But Selby, 28, dismisses suggestions the players may suffer from burnout with the number of tournaments they are competing in.
"I don't think there are too many [tournaments] at the moment," he said. "There weren't enough tournaments before but now I think it's fine.
"I started the season well winning three tournaments but, because the season is so long now, it seems like an eternity since I won them.
"The travelling is tiring and can have an effect on your game - but I'd rather be in this position."
Selby won two matches at this week's PTC event in Sheffield before losing to eventual winner Michael Holt.
And he feels the quick turnaround will be a benefit as he prepares to face Welshman Ryan Day in his first-round match in York on Sunday.
He told BBC Sport: "If you have a good run in the PTC, it gives you lots of confidence going into the UK with it being such a big tournament.
"Everybody is wanting to go there and have a good run."
Snooker has undergone a mini revamp since Barry Hearn was handed control in June 2010, with the introduction of walk-on music and more events including Power Snooker where players compete for points instead of frames.
Selby hailed the impact Hearn has made on the sport and is a fan of the quickfire format of the game.
He said: "Barry's changes to the game have been really positive. Everything he gets involved in just excels and gets better and better.
"There was room for Power Snooker in the calendar and, by changing the rules, it has made it more entertaining than what we normally see.
"Traditional snooker is the way forward but there is nothing wrong with mixing it up.
"That said, you don't want too many of them because it would take it too far away from what snooker really is."