UK Snooker Championship: Mark Allen faces charge over swearing
Last updated on .From the section Snooker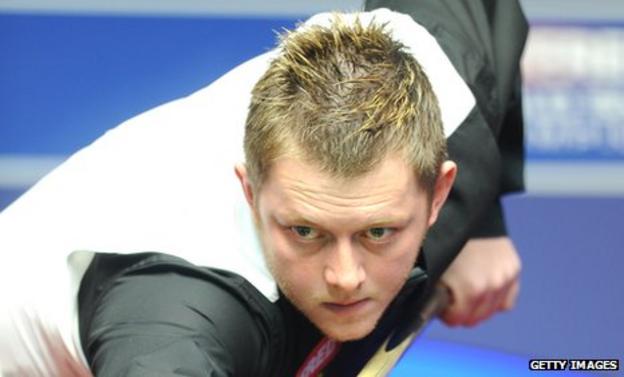 Mark Allen will face a disciplinary committee for swearing during a news conference in which he criticised World Snooker chairman Barry Hearn.
The 25-year-old could be charged with bringing the game into disrepute for his use of "inappropriate language".
The World Professional Snooker and Billiards Association stated that Allen was in breach of UK Championship rules.
Allen called for Hearn to resign after beating Adrian Gunnell 6-3 in his opening match of the tournament.
The Northern Irishman criticised Hearn's decision to shorten early matches from best-of-17 frames to best-of-11 and swore as he accused Hearn of showing disregard for the players.
The world number 12 claimed Hearn, who took over as chairman in June 2010 after being voted in by a majority of the world's top 64 players, had pledged not to make changes to major tournaments.
The WPBSA chairman Jason Ferguson, who is a director of World Snooker and in charge of player discipline in the game, insisted that it was Allen's use of a swear word rather than his views on Hearn that prompted his referral to the disciplinary committee.
"I must be very clear. The report is for his use of language in that press conference and we will take that very, very seriously," he told BBC Radio 5 live.
"We consult with our players on a regular basis and up until yesterday Mark Allen has not expressed any opinion whatsoever on the format changes.
"I can see his argument, but generally speaking the format of the game hasn't changed.
"We are still playing snooker, a traditional sport, the game hasn't changed. We have seen a huge growth in our sport and that is really due to some of these changes."
Speaking about the new tournament format, John Higgins told BBC Radio Scotland: "I was disappointed he [Hearn] had tampered with the length of the match, which was best of 17, and he hadn't explained to the players why.
"But he came out last week and told us why - it was because the BBC wanted a result at the end of each match, and that's fair enough. At the end of the day, he has to negotiate contracts with the BBC and, if that is what they are stipulating, that is what we have to abide by."
Discussing Allen's comments, he added: "I think Mark Allen is a little bit strong saying he wants him to resign. I think it was a moment after winning a match and he was maybe a little hyped up.
"We all know he [Hearn] is doing great for the sport, he has injected a lot of life back into the sport so I don't really know where Mark is coming from, wanting him to resign, because he could be the best thing to happen to our game.
"He [Hearn] is bullish and maybe that has rubbed some of the players up the wrong way. We have made mistakes as players in the past and he has made a couple of mistakes as well when he has first come in.
"He is trying to get the calendar sorted and we are flying halfway round the world at the drop of a hat sometimes. But I am sure, once the calendar settles down, it will be great for everyone."