Masters Snooker: Murphy and Robertson into semi-finals
Last updated on .From the section Snooker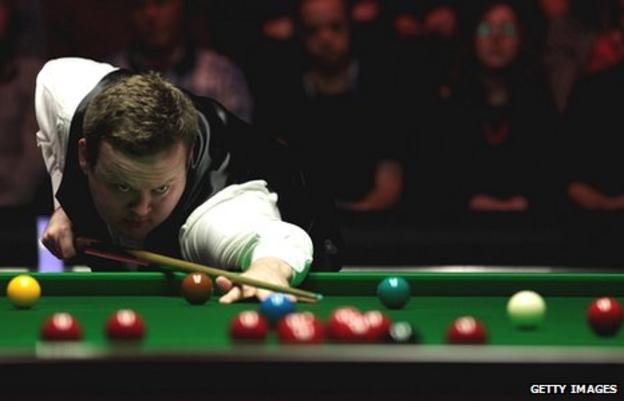 Shaun Murphy beat world number one Mark Selby 6-2 to secure a Masters semi-final against world champion John Higgins at Alexandra Palace.
At 5-1 down, Selby potted 14 reds and 14 blacks for a 112 to keep the match alive but Murphy held firm.
Neil Robertson beat Mark Williams 6-4 and faces Judd Trump in the last four.
Robertson had a break of 95 in moving 4-1 ahead and though Williams hit back to 4-3, Robertson compiled a 119 clearance and soon wrapped up the win.
Murphy and Selby had shared the first two frames, which took 45 minutes, but breaks of 88 and 52 gave Murphy a two-frame cushion.
Potting nine reds and nine blacks helped Murphy take the fifth frame and a 65 secured the next, after Selby missed a straightforward final yellow.
Selby, winner in 2008 and 2010 and a beaten finalist in 2009, looked set for only the third 147 maximum in the history of the Masters.
But after nudging the awkwardly placed penultimate red away from a side cushion, he played a poor positional shot on the 14th black and missed a tough final red to a baulk corner.
Runs of 20 and 48 put Murphy in the last four of the event for the first time and he said: "It's got a great history, a great heritage and it's one of the first tournaments I went to as a young kid.
"I'm not sure why it hasn't been a good event for me in the past. But new venue, new start.
"There were a few nerves at the start. It was a big match for me, playing the world number one, a former champion here and one of my best mates. Luck more than judgement got me to 3-1 ahead but I think I finished the match pretty well.
"That's the first time I've seen Mark stamp his feet and get annoyed with himself, which he did in the third or fourth frame. We both wanted to win so badly."
In the earlier game, it was fitting that a Williams mistake gave Robertson the chance to seal his passage to the last four, the Welshman having erred on several occasions throughout the match.
In the scrappy, near 40-minute first frame, and again in the third, fifth and eighth, Williams made basic errors and was made to pay by Robertson, who overcame damage to his cue tip to book a first Masters semi-final after three previous quarter-final defeats.
"I potted some really good balls under pressure to go 5-3 up," said Robertson. "From there you expect to have once decent chance to win the match.
"I miscued in practice and [the cue tip] flared up. We tried to repair it as best we could. I'll have to change it tonight.
"You're meant to play in a few cue tips to get them ready in case this happens, but I haven't done that. I'll have to get in a couple of hours' practice to play it in."
After a forgettable first frame, Williams levelled with a break of 78 before Robertson opened up a lead that he would ultimately not relinquish.
The world number five won the third on the final black after Williams missed a straight yellow, then triumphed either side of the interval to go within two frames of victory.
Williams, a two-time Masters champion, took advantage of a touching ball to use the black to pot a red on the way to winning the sixth and further reduced the gap with a run of 68 in the seventh.
Robertson's brilliant clearance in the eighth put him on the brink of victory and, although Williams was able to prolong the match with the help of a 78 in the ninth, a final, fatal error in the 11th sealed his fate.