Ronnie O'Sullivan/Stephen Maguire in German Masters final
Last updated on .From the section Snooker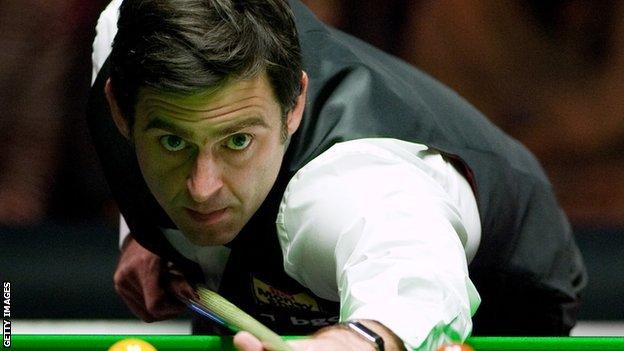 Ronnie O'Sullivan reached the final of the German Masters with a 6-4 semi-final win against Stephen Lee.
O'Sullivan began the week with his top-16 ranking and automatic place in the World Championships in doubt but defied glandular fever symptoms to thwart Lee.
In Sunday's best-of-17 frame final he will play Stephen Maguire, who thrashed Masters runner-up Shaun Murphy 6-0.
It was the Scot's second whitewash of the week, after his in round two.
O'Sullivan, without a ranking title since the 2009 Shanghai Masters, revealed he had been suffering with the virus for two months.
He needs to secure ranking points to avoid dropping out of the top 16 for the first time since he was a teenager.
The Welsh Open, which starts on 13 February, is the last ranking event to count towards seeding for the World Championship.
Failure to retain his place in the elite top-16 would leave the three-time world champion facing a series of qualifying rounds to make it to The Crucible in April.
Before a full house of 2,500 at the Tempodrom in Berlin, O'Sullivan was not at his mesmeric best but a break of 73 put him 2-0 ahead.
He missed a red into the centre pocket in frame three, which Lee secured with a 72, but O'Sullivan regained a two-frame cushion after a run of 59 in frame four.
Lee, playing in his first ranking semi-final for six years, rolled in a 63 to reduce the deficit again, but O'Sullivan won a scrappy sixth after clearing from the green.
An 82 saw O'Sullivan move within a frame of victory but Lee clawed back the next two and had chances to take the match to a deciding frame when The Rocket missed the green off the penultimate red.
But after further misses by both players Lee left a thin cut on the pink in the jaws and a relieved O'Sullivan advanced to his first final since the 2010 World Open.
"I'm just relieved to get though because I've really been struggling with glandular fever this week," the 36-year-old said.
"I didn't think I was going to get through the match. It's not an excuse for missing balls but sometimes I feel dead on my feet. I was wiped out even before the game, I just had to try to get through it.
"Before the UK Championship I was ill for a week. After that I had three weeks off and was able to get some rest, but then it came back again about ten days ago. I've had some tests done because it was important to find out what it was. I had it before about six years ago and the symptoms were the same. It can just knock me out.
"The doctors say I have to take it easy but at times this week I have been exhausted. I haven't even been running or hitting the gym for the past two weeks, which is not like me.
"There's a lot expected of us as players but my health comes first and I'm not prepared to compromise. I can't push myself over the edge. There's no cure for glandular fever, it's a virus which stays in your body. There's nothing you can do except rest so I'll go back to the hotel now and sleep.
"I have to listen to my body. Both the doctors I have been to told me it is a serious illness and I need to be careful, because if it gets worse then it can take years to recover. I want to enjoy my life."
Meanwhile, world number eight Maguire knocked in breaks of 77 and 52 to race 2-0 up against Murphy.
A clearance of 48 gave him the third frame after Murphy missed a red to end a break of 52, while frame four was even more galling for the Englishman, who was 41 points ahead following a break of 65 but lost the frame after conceding a free ball when snookered.
After the interval Maguire wrapped up victory with runs of 62 and 97 and is now in sight of his first title since the 2008 China Open, when he beat Murphy 10-9 in the final.