Mark Allen: Haikou World Open conditions are 'horrendous'
Last updated on .From the section Snooker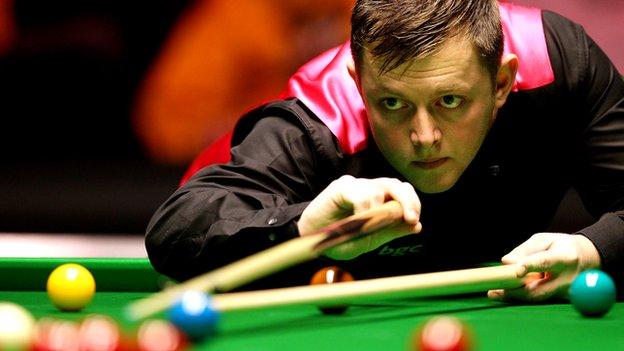 UK snooker championship finalist Mark Allen has criticised conditions at China's Haikou World Open as "horrendous".
The 26-year old tweeted: "Dead cat found this morning. Any wonder this place stinks. Must be dead cats all round the town."
Allen, who has may now face further disciplinary action.
World Snooker later described his remarks as "extremely disappointing".
Allen wrote: "This place is horrendous. It just baffles me how world snooker continuously go out of their way to put tournaments on in the middle of nowhere."
Left-handed Allen, who is from Antrim in Northern Ireland, is ranked 12th in World Snooker.
He deleted an earlier tweet in which he allegedly criticised the local population. The Press Association report Allen as saying: "Journey a nightmare. People are ignorant. Place stinks. Arena's rubbish, tables poor, food is horrendous. Other than that I love China."
Allen later partly apologised if any of his opinions had caused offence.
He wrote: "As usual people jump on the hate-Allen bandwagon. Might've been a bit harsh a few hours ago in my tweet. Not all Chinese people are ignorant. I stand by everything else though.
"I did take back the ignorant part but the smell is a joke. Not telling any lies.
"Nearly being spat on and general poor manners and personal hygiene are very poor. Not all like that though."
Allen reached the last eight of the Haikou World Open by defeating world number eight Judd Trump 5-4 after coming from three frames down.
Trump is travelling back to Britain from the world ranking event and himself tweeted: "Let it slip today but good luck to [Mark Allen]. Get me home."
Meanwhile, in other action on Thursday John Higgins whitewashed Jamie Cope 5-0 in an hour and 13 minutes and world number one Mark Selby overcame Michael Holt 5-3.
Higgins, who finished his match off with a break of 133 and also had runs of 50, 73 and 83 en route to victory, said: "That's probably the best I've played this season."
Stephen Lee beat former world champion Neil Robertson 5-2 in a high-quality match featuring seven centuries.
The Australian opened up with a 106 before Lee levelled and then put together breaks of 138 and 109 to take a 3-1 lead at the interval.
Lee took the next then his opponent compiled a run of 136 before the Englishman closed out the match with yet another century - a 120.
"Playing each week has made the difference because if you do play bad you can put it right the following week," said Lee. "I'm playing a lot more, competing better and there's a high standard of snooker week in and week out."