Snooker chief Barry Hearn has no plans to tinker with Worlds
Last updated on .From the section Snooker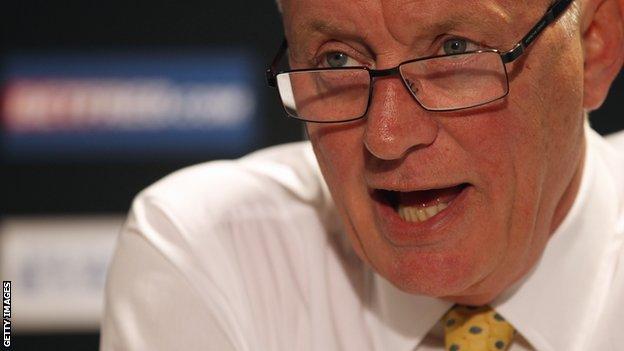 Snooker chief Barry Hearn has allayed the fears of traditionalists by revealing he has no plans to alter the format of the World Championship.
This led eventual finalist Mark Allen to allege the game was "going to pot".
"The Worlds are the pinnacle of our sport and has history. That I will not touch," Hearn told BBC Sport.
"It is so amazingly eccentric and British - what other event could have a semi-final that lasts three days? It's weird and wonderful, it goes beyond change.
"Give me a frame leniency either way, but that event is such a big event in the worldwide calendar now, only a braver man than me would change it."
However, Hearn made no apologies for tinkering with the UK Championship, or indeed any other events on the snooker calendar.
"I made the changes because I listened to my customers and to what the BBC [which broadcasts the UK Championship] wanted," said Hearn, who has transformed darts into the second-most watched sport on satellite broadcaster Sky, behind only football.
"On all the other events [except the World Championship] we have to have the flexibility to be innovative, to be more exciting. Most importantly, we must make every event look different, otherwise people get bored.
"A few years ago, even with my snooker background, I began to find snooker boring. I thought it was all very samey - it's never going to be samey again, trust me on that.
"I listen to my paying customers the most because if I get it right with them, I know my ratings are going to be great. If my ratings are great, my sponsors are going to be happy.
"It all begins with the customer who buys a ticket for a show. If you looked at darts 10 years ago, the average age in the audience was 45-55, today the average age is 18-30, and now you may get 20-25% women in the audience.
"We're in a changing market and we want to make sure we watch those trends and make sure we move with them.
"We're in the social network age, we've got to integrate with young people, we've got to give them the product they want to see. But at the same time we've got to be able to differentiate between innovation and tradition."
Hearn was appointed World Snooker chairman in December 2009 after being voted in by a majority of the world's top 64 players.
Since taking control, Hearn, 63, has introduced a series of 13 tournaments called the Players Tour Championship, plus the against-the-clock Shoot-Out in Blackpool, dubbed snooker's answer to Twenty20.