John Higgins happy to rediscover appetite for snooker
Last updated on .From the section Snooker
John Higgins admits he lost the hunger for snooker, but the Scot believes it has returned just in time for him to defend his world title at the Crucible.
The four-time world champion has slipped down to sixth in the rankings.
"I could maybe say earlier on in the season it wasn't there," Higgins admitted about his desire to succeed.
"But I think, in the last week to 10 days, I'm getting the hunger back and I'm getting the butterflies and will get myself ready to do myself justice."
Higgins exited the most recent ranking event, the China Open, in the second round, losing 5-4 to Peter Ebdon, who went on to defeat another Scot, Stephen Maguire, in the final.
The world champion also failed to reach the quarter-finals of the Welsh Open when beaten by Ding Junhui - and the German Masters, where Maguire whitewashed him 5-0.
"I'm not playing as well as I should," Higgins told BBC Scotland. "This year has not been a great year for me and the reason is I've probably not put the practice in that you need to put in.
"But I've got three weeks to rectify that and I'm going to really put the work in.
"And, who knows? If I can go down there and get a bit of confidence under me, I think I've got a chance.
"But there's people there who are probably better fancied."
Higgins thinks that his game is possibly less suited to the short-frame format now being adopted by many tournaments.
However, Higgins suggests that the better players come to the fore in longer games - and that his previous experiences in Sheffield will give him an advantage.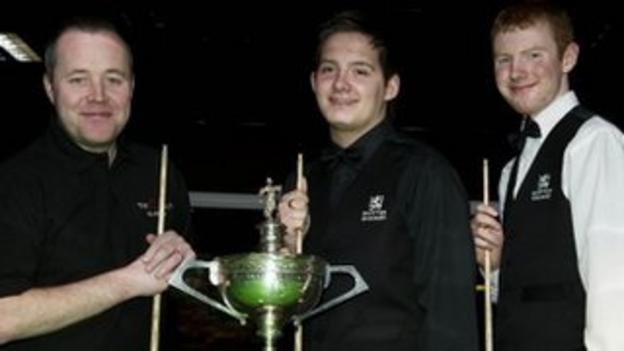 "At the end of the day, I've been there and done it," he said.
"I've won it a few times and, if I can go down there and start playing well, I've got a chance.
"It is the best feeling in the world when you hold the trophy aloft in front of your family and friends.
"It would mean the world to me again to go and win it again.
"Obviously it is getting harder every year, but to win it again would be amazing."
Higgins repeated previous comments that he fears for the future of snooker in Scotland unless it receives government funding.
"It is basically self-funded by businessmen and there are a lot of snooker clubs closing down or there's a lot of them taking snooker tables out to put pool tables in," he said.
"I think we might have seen the end of the glory years in Scotland with the snooker players.
"I think snooker's been a great sport for Scotland and we've got a couple of young players coming through.
"We've got Anthony McGill, whose just turned professional, and Michael Leslie, who has just won the European Junior Championship and will turn professional this year.
"But I think, after that, there's not a great deal of talent, which is worrying."