World Snooker Championship: Ali Carter's future depends on health
Last updated on .From the section Snooker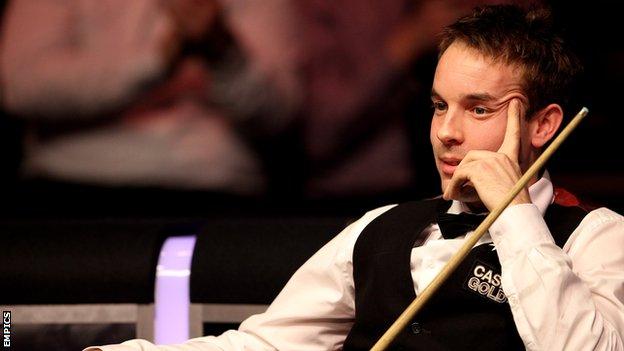 Ali Carter says his ongoing health problems will dictate his future in snooker, but he insists he is prepared for this year's World Championship.
The 32-year-old has plummeted to 17th in the world rankings following a year disrupted by Crohn's disease, the illness he has lived with for 10 years.
His poor form led him to
"At the time when I said that, I was seriously contemplating that," the Chelmsford-born cueman told BBC Essex.
"I'm not saying I'm not contemplating it now, but I thought to myself 'if I have a year or two off I can get my health right'.
"It's difficult to say what I'm going to do. If I can keep healthy I'll definitely keep playing."
The 2008 World Championship finalist, as high as sixth in the rankings 12 months ago, will who is ranked one position lower at 18.
"I've just struggled really. I haven't played particularly well," Carter said of his form.
"My Crohn's disease has played up a lot and prevented me from practising. I've felt really tired all the time but hopefully I'm getting on top of that now - or at least trying to.
"I've done it for the last 10 years but it's got hold of me a little bit this year. Hopefully I can put this year behind me and move forward and get back up the rankings.
"I want to start feeling a little bit better in myself and hopefully the enjoyment will come back. It's horrible when you're turning up to practise and you're not feeling very well and having to force yourself to play.
"Hopefully I can turn it into a positive at the World Championships."
Should the former two-time Welsh Open winner progress past Davis, he will face the winner of the Judd Trump and Dominic Dale match.
Last year's beaten Crucible finalist Trump enters the tournament as world number two, leading Carter to believe he can compete without pressure, should the pair meet.
"I've got no expectation on myself unlike a couple of years ago when I got to the final," he said.
"Mark Davis will be tough. If I get through, Judd Trump is going to be difficult.
"Judd's got a lot of things going for him and I won't be expected to win that game by a lot of people."