World Snooker Championship 2012: Williams 'hates' Crucible
Last updated on .From the section Snooker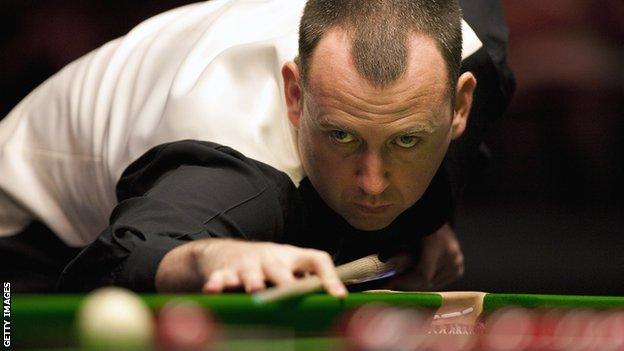 Two-time winner Mark Williams says he "hates" Sheffield's Crucible Theatre, the venue for the World Snooker Championship.
The 37-year-old Welshman, champion in 2000 and 2003, said he would "rather play at Pontins" and hoped the tournament is switched to China.
World Snooker chair Barry Hearn later said he was happy to stage the event at the venue "until the day I die".
The Grade II listed Crucible has held the tournament since 1977.
After his initial comments, Williams tweeted: "Wow, I'm in trouble [with World Snooker] for my last tweet about the Crucible."
Realising his views could spark disciplinary procedures, he added: "It's only my opinion... so don't send me any letters or fines."
He added: "World Snooker been on the phone. Not sure if it's because I nearly swore, or said I hate playing at the Crucible, or want the World Championships to go to China."
The Crucible's contract to host the World Championship expires after the 2014 event. Hearn insisted that he could not see any reason why the deal would not be extended.
"There's is so much history associated with the Crucible, it is synonymous with snooker and the World Championship," he said.
"There's something unique and magical about the atmosphere in the arena which couldn't be replicated anywhere else.
"We look forward to a wonderful Betfred.com World Championship and to great years ahead in Sheffield, the Snooker City."
Nobody from the 980-seater Crucible, which celebrated its 40th anniversary last year, was available to comment.
The Crucible underwent a £15m refurbishment in 2007, with the building closed for three years during the upgrade. However, it continued to host the World Championship.
World number two Williams begins his World Championship campaign against China's Liu Chuang on Wednesday.