World Snooker 2012: Brecel compared to Alex Higgins
Last updated on .From the section Snooker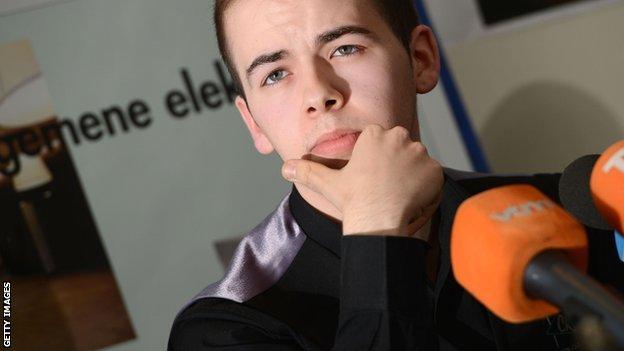 The coach of Belgian teenager Luca Brecel has compared the 17-year-old to late snooker legend Alex Higgins.
Brecel will become the youngest player to appear at the Crucible when he begins his first-round World Championship match against Stephen Maguire on Sunday.
"He's very aggressive and doesn't hang around," Chris Henry told BBC Sport.
"He sees the table very quickly and Alex used to be similar to that - he'd know exactly what he wanted to do."
Henry, who has also worked with seven-time world champion Stephen Hendry and 2002 winner Peter Ebdon, added: "I spent a bit of time as a kid with Alex.
"He'd have a glance at the table and it was a case of, 'I don't need to think about this, I just need to get on with it'. It takes away the decision-making process. He could just see it."
Northern Irishman Higgins, who died in 2010, had been a teenage prodigy himself. His two world titles included a famously emotional victory at the Crucible in 1982, and he was considered one of snooker's greatest natural talents.
Henry has been working with Brecel since the world number 87 was 10 and has guided him to some startling results in the ensuing seven years.
Brecel made his first 147 break when he was 12, won the European Under-19 title aged just 14 and beat snooker legends Jimmy White and Ken Doherty at the same age.
He qualified for the Crucible courtesy of wins over seasoned pros Ian McCulloch, Barry Pinches, Michael Holt and Mark King and sounds bullish about his chances.
"I think Maguire has more to lose because he is a top-16 player, and he has been on the tour much longer then I have," said Brecel. "It's possible he will be more under pressure."
Asked what would constitute a successful World Championship, Brecel replied: "A final against [last year's runner-up] Judd Trump."
Meanwhile, three-time world champion Ronnie O'Sullivan has suggested Brecel could be a "game-changer" in the sport.
"The sport needs a superstar from Belgium, or anywhere in Europe where it is becoming so popular," said O'Sullivan.
"He is a very talented boy and is learning quickly. If you are the real deal it's never too early to start winning titles."
Henry sounded a note of caution, while suggesting his charge was progressing at a similar rate to Trump, who also made his Crucible debut at 17.
"I would certainly compare him to Judd, he's showing that kind of potential - incredible ability for someone of such a young age," said Henry.
"But it does take a certain amount of experience playing at this level to be able to adapt.
"He gets a bit nervous but I've been working on the mental side and it's about being able to keep calm and relaxed in these alien circumstances.
"But hopefully we've done the right preparations over the years. We visited the Crucible last year to get a feel for the place, although I didn't think he'd be back so soon."