World Snooker Championship 2012: Day hopes for win boost
Last updated on .From the section Wales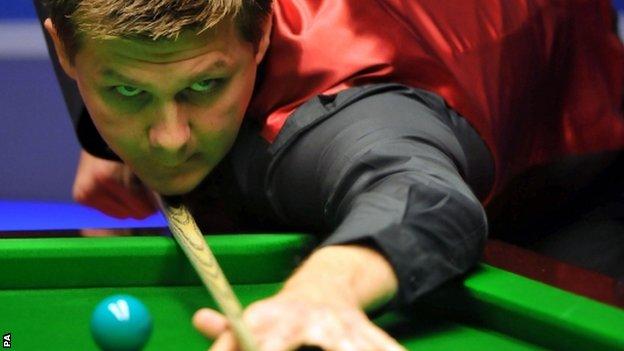 Welshman Ryan Day is hoping his last frame victory over China star Ding Junhui is a launch pad for the rest of the World Championship.
Day went through to the second round of the Sheffield event with a 10-9 win over the seventh seed after coming back from 9-6 down.
It is quite a result for Day, a former top-eight player who has dropped to 35 in the rankings.
"Hopefully this can draw a line in the sand [for me]," said 32-year-old Day.
"Hopefully I can use this as a springboard for the rest of the tournament and going into next season."
In the next round Day will take on another Chinese player Cao Yupeng, who knocked out Mark Allen 10-6 in the first round. That match starts on Friday afternoon.
And Day believes it will be a tough game even though 21-year-old Cao is ranked 81 in the world.
"He obviously played a very good match against Mark Allen," said Day.
"He is a young lad. He hasn't got a lot to lose. He's playing very freely. It will be a tough match but I'm looking forward to it."
Day had begun the second session of his Ding match leading overnight 5-4, but the Chinese player took the initiative.
"After the first session that's all you can ask for is a lead," said Day.
"I felt a bit more nervous coming into [Wednesday's] session. Even though I started well it didn't settle me down and for the next five frames I went missing.
"But at the end 9-6 down I managed to dig in and get it won.
"It's just a matter of trying not to look at the scoreboard and taking each frame as it comes. You win one, it's 9-7. You win another, 9-8.
"And then you can sense he's getting under pressure as well as the pressure maybe lifting off you because you have got nothing to lose coming from so far behind.
"Ding had the first really good chance but luckily for me he missed a red with the rest and I managed to hold myself together and clear up.
"Every shot had lots of pressure on and I was really pleased I held myself together so well.
"I was just thinking about my daughters and trying to use them as a bit of inspiration and it helped me dig in and fight to the end."