World Snooker Championship 2012: Crowd angers beaten Ding
By Ben Dirs
BBC Sport at the Crucible
Last updated on .From the section Snooker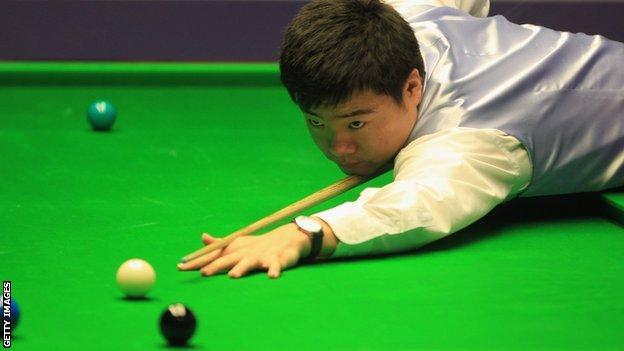 Chinese star Ding Junhui added to the controversy at the Crucible by hitting out at fans and conditions following his defeat by Welshman Ryan Day.
"I don't think the tables were right, I don't think the fans were right. It was all rubbish," said the 25-year-old.
"They just kept shouting. People say Chinese fans are no good, but I'm here and what do they do?"
Asked if he thought the crowd had been fair, Ding simply replied: "No."
Ding, among the favourites to win this year's title, was 6-4 behind at one stage before reeling off five successive frames to take him to within one of victory.
However, Day, the world number 35, won the next three frames before taking a nerve-jangling decider after Ding missed a red with the rest.
This year's tournament has had more controversy in its first five days than many previous stagings have had in their entirety.
Last week, two-time world champion Mark Williams criticised the Sheffield venue and suggested the event be moved to China. The Welshman was booed before his opener against Liu Chuang on Wednesday.
On Sunday, Northern Ireland's Mark Allen accused first-round conqueror Cao Yupeng and other Chinese players of dishonesty and has since been threatened with disciplinary action.
Day, who plays Cao in the second round, said he did not think the crowd, which had a strong Chinese contingent, had done anything untoward.
"I didn't think there was any calling out at the wrong time," said the 32-year-old, who has struggled for form this season.
"Obviously with a match like that everyone who was watching gets right behind whoever they want to win and I didn't notice there was any calling out when a player was on the shot.
"If there's calling out after someone's left an opportunity or re-entered the arena, that's fair enough."
Day said his two daughters had provided the inspiration for his battling performance.
He said: "The pressure was massive, but from 9-6 down the inspiration I used was my daughters. I was thinking 'don't miss, don't miss, don't miss'.
"It's been a bit of a struggle the last couple of years but it's a tournament everyone wants to be involved in."