World Snooker Championship 2012: Crucible Chinese revolution
By Shamoon Hafez
BBC Sport at The Crucible
Last updated on .From the section Snooker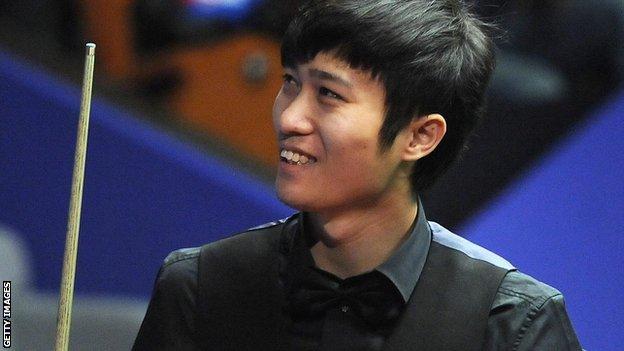 The popularity of snooker in the UK during the Steve Davis era was such that 18.5 million people watched his famous 1985 black ball World Championship final against Dennis Taylor.
Audience figures have waned in the decades since, the proliferation of television channels providing the viewing public with a wide range of competing interests, not only in sport.
But there is a feeling of renaissance in the game since Barry Hearn's takeover in 2010, with the man who transformed darts attempting to do the same with his first love.
Prize money has doubled in his two years in charge, the number of events increased and defending world champion John Higgins, who complained a couple of years back he felt like "a part-time player", is in a full-time job.
And Hearn, being the shrewd businessman he is, is taking the sport to where they crave it most: the Far East. There are five Chinese ranking events pencilled in for next season.
The new face of snooker is very much evident this year at the Crucible, with four players from mainland China taking their place in the main draw, the highest number ever, in addition to Hong Kong's Marco Fu.
It was Ding Junhui who got the cue ball rolling, his victory over seven-time world champion Stephen Hendry in China in 2005 a sign of things to come.
While the number of snooker clubs in the UK is in decline - in 2009, snooker clubs group Rileys went into administration - more and more are opening in China, with capital Beijing, where there are estimated to be between 500 and 1,000, arguably the epicentre of the sport.
Chinese journalist Victoria Shi explained why snooker is all the rage in her home country - she points out 15 channels are airing the Worlds this year - and why she thinks her countrymen are so suited to the sport.
"Chess is very popular in China, and they have embraced snooker because of its similarities, in that you have to be quiet and use your mental strength," she said.
"Snooker is also popular because there is no age limit. People can come together and play a sport which is not physical and they can also play when the weather is not good.
"Here in England, people say 'let's meet at the pub', but in China they say 'let's meet at the snooker club', where friends meet to socialise after work."
In the latter stages of Ding's shock first-round defeat by Welshman Ryan Day, the Crucible press room was full of Chinese journalists, camped at the front urging on their man. Meanwhile, inside the arena there is a strong contingent of, mainly young, Chinese fans making their presence felt.
Former world champion John Parrott feels the Chinese influence can only be a good thing for the sport, especially given China is a country with a population of 1.3 billion people.
"The Chinese have embraced snooker and the players have a very good work ethic," the 1991 Crucible winner told BBC Sport.
"They all love the game and work very hard at it and, with the amount of people they have in their population, they will produce more players than we can in the UK. We will see many more Chinese players."
Hearn described this year's influx of Chinese players as a "sign of the times" and is excited by the prospect of more tournaments in China.
"I don't think it's going to look back from there. The game is huge in China and I think we're going to see more and more Asian involvement, particularly Chinese," said Hearn.
"It's a very good time for the game. It looks as though it's on the upturn and that's exciting for people who love snooker. I'm loving the chance to make snooker a truly global game."
China's players have had some mixed fortunes during the first week of the World Championship, the disappointment of Ding's first-round exit tempered by 21-year-old Cao Yupeng's shock win over World Open champion Allen.
"Nobody expected Cao Yupeng to perform at the level he did against Mark Allen," concluded Shi. "But in China, there will be about 40 players who play similar to his level - and he is number 81 in the world."