World Snooker Championship 2012: Selby loses to Hawkins
Last updated on .From the section Snooker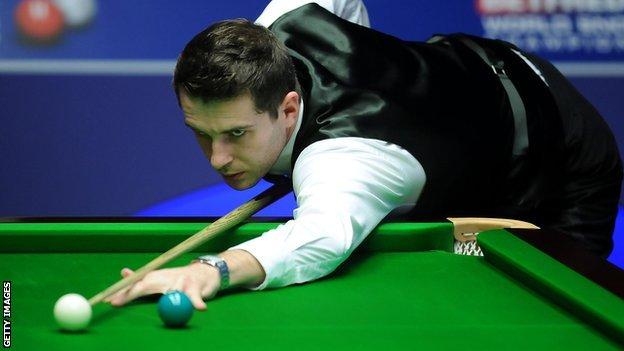 World number one Mark Selby became the record-equalling eighth seed to be eliminated from the World Championship after a 10-3 defeat by Barry Hawkins.
Selby, resuming 6-3 down, failed to add to his tally as he became the latest contender to fall - equalling the first-round record of 1992.
He had little practice entering the tournament after a suffering a neck injury at the China Open.
Selby, 28, said: "There were certain shots I couldn't physically play."
He added: "I was trying my best out there but I didn't have the strength and the power.
"I'm happy that I managed to play because 10 days ago I was looking at pulling out."
Selby, the 2007 runner-up, could find no rhythm against a determined Hawkins, the world number 22, who will play two-time finalist Matthew Stevens in the second round starting on Sunday.
Resuming three frames behind, Selby required snookers in each of the first two frames of the evening session.
But he looked on helplessly as his opponent raced into an 8-3 lead, before the 33-year-old from Kent confirmed his place in the second round inside two hours.
"It was tough knowing he had a problem," said Hawkins, "but I had a good start and I saw it out."
The left-hander made three half-century breaks in the first four frames of the match.
In an eighth frame lasting almost an hour, Selby battled to secure three of the four snookers he required, but Hawkins kept his nerve.
When Selby again failed to capitalise, Hawkins never looked back and enjoyed a 6-3 lead after the first session.