World Snooker Championship 2012: Trump 'needs more'

By Ben Dirs
BBC Sport at the Crucible
Last updated on .From the section Snooker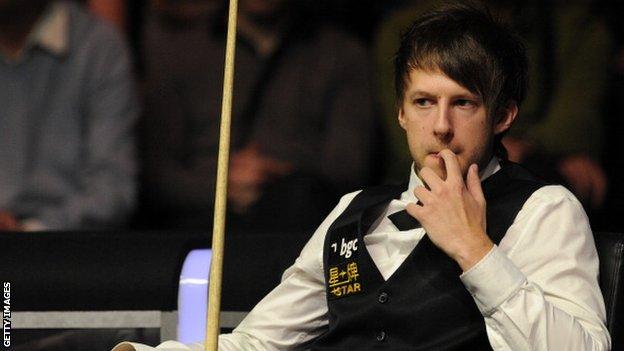 Dominic Dale believes Judd Trump does not deserve his favourite tag despite losing to last year's runner-up in the first-round at the Crucible.
"Most of the other players look at Judd as a guy who's a devastating potter and break-builder," said Dale, who led 7-6 before Trump won four straight frames.
"But I always think you need more to your game than Judd has at the minute."
But, the world number 27 said Trump could be as good a player as the late Paul Hunter, the three-time Masters champion who passed away in 2006.
"The thing I like about Judd is he's willing to learn and he's showing signs of being the player Paul Hunter was," added Dale.
"Paul was a great potter, a great break-builder, with bravery and courage under pressure - he had the whole game.
"Give Judd another couple of years and he'll be a bit of a Paul Hunter in terms of what other players think of him. Paul was a deadly player and very dangerous."
Meanwhile, Trump revealed he would not have played if it had been any event other than the World Championship.
"I haven't eaten properly for two days. I'm just glad to get out of there," said the 22-year-old, who has a few days off before his second-round match against either Ali Carter or Mark Davis on Saturday.
"It was tiring, I never really had control of the cue ball throughout the whole match. A lot of the seeds have gone out, so I'm just glad to be in the next round.
"Earlier in my career if I had played like that I would have got down on myself because I wasn't putting on a show for the crowd, but I had to just get through it and I wasn't bothered how I did it.
"I'm still nowhere near my best but I'll have a day in bed on Thursday and hopefully I'll be able to practice on Friday."