World Snooker Championship 2012: Ken Doherty Q&A
By Ben Dirs
BBC Sport at the Crucible
Last updated on .From the section Snooker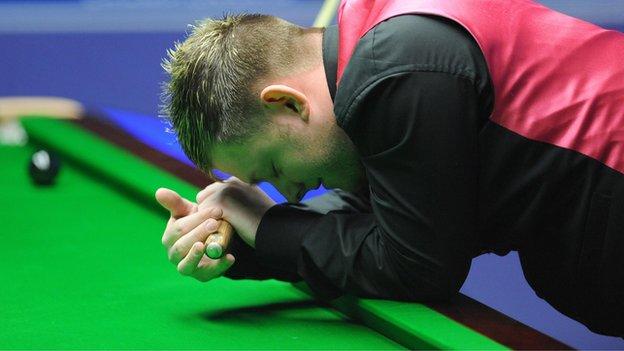 Five days into one of the most controversial and unpredictable World Championships ever and already eight seeds are out, the most top-16 victims to fall in the first round since 1992.
BBC Sport asked 1997 world champion and television pundit Ken Doherty what on earth has been going on at the Crucible.
Ben Dirs: Can you recall a more unpredictable first week?
Ken Doherty: No, and it's been astonishing to watch. It's one of those rarities that may happen every Halley's Comet. I wish I was a betting man because I would have bagged a fortune with all these seeds going out.
So many of these top-16 players have been playing well coming into the tournament, showing a lot of form. Look at the season Stephen Lee has had [Lee won his fifth ranking event as well as reaching a final and two semi-finals] and he went out to Andrew Higginson, the world number 19.
BD: Whose defeat were you most surprised by?
KD: The most surprising one was Graeme Dott going out 10-1 to Joe Perry. Dott has been in three finals in eight years here, he is normally very, very steady. To only win one frame, that's very, very surprising.
BD: Why have so many top-16 players been beaten?
KD: Seeds have always been nervous in the first round - even defending champion John Higgins was very nervous against Liang Wenbo [Higgins came through 10-9 against the world number 38].
Also, some of the top players play so many matches in a season now, when they get to a World Championship, where they have to play long matches, they might find they're already played out.
Selby [who lost his first-round match 10-3 to world number 22 Barry Hawkins] would have already played about 100 matches before he got here, whereas three or four years ago we only had six tournaments.
BD: So is Barry Hearn's expanded tour a good or a bad thing?
KD: We should be playing worldwide, wherever it's popular. But it will come to a stage over the next couple of years, as there are more and more events on the calendar, when players will start to pick and choose their events.
Barry Hearn wants to change the rankings system to prize money won, which is not a bad idea. But what will happen is the bigger players will play in the bigger tournaments with more money at stake rather than in the smaller events.
The other side of the coin is someone like Ryan Day [the world number 35 who upset Ding], who has gained sharpness from playing in the smaller events. He's also got a lot more confidence and maybe he fears the top players less.
You might not be coming back with much prize money but there are a lot of benefits of playing in them in terms of match practice, especially if you're struggling with your game. You're not waiting a month until the next tournament, you've got another one next weekend or the weekend after that.
BD: Is there a danger so many 'name' players going out so early might take the gloss off the tournament?
KD: I don't know what the TV viewers will think of it but I don't think it's taken the shine off the tournament at all. It's made it all the more exciting because you don't know what's going to happen.
The match between Higgins and Stephen Hendry will be a classic, and you've got Ronnie O'Sullivan possibly playing Mark Williams in the second round, so there are still a lot of great match-ups in the second round and beyond.
BD: A couple of players [Ding included] have complained about the playing conditions at the Crucible; could that also have been a leveller?
KD: When I played on the first day the conditions were perfect. But we've had a lot of rain and I don't know whether the tables have got a little bit heavy because of that.
That can make it a bit of a leveller because it's harder to move the white around, and you'll see a lot more missed pots. But you should be able to adapt as a professional.
BD: Do you fancy any of the qualifiers to go on and win it?
KD: The only one I would say I fancy is Stephen Hendry. He could cause a big upset against Higgins and there's no reason why he can't win this event. It's a matter of whether Hendry believes he can win, and that might be a stumbling block.
When he headed home for a few days after his first-round win over Stuart Bingham, he told me he'd be coming back with his golf clubs. But maybe that's reverse psychology, maybe he's playing it as if he doesn't care. It might make him play better because he's not putting that much emphasis on it."