World Snooker Championship 2012: Carter criticises Trump
By Ben Dirs
BBC Sport at the Crucible
Last updated on .From the section Snooker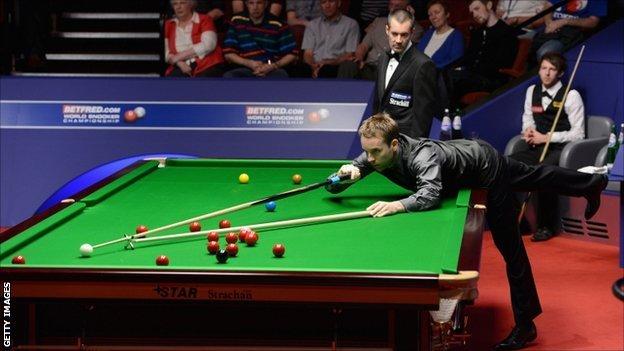 Ali Carter questioned Judd Trump's playing style and etiquette after coming from behind to beat the favourite in the second round.
"He didn't apologise for any [fluked] shots through the whole match. There's a bit of etiquette in the game," said Carter.
But Trump accused his opponent of being "childish" after he sarcastically applauded an apparent fluke shot.
Carter said: "Judd pots them from everywhere but there's more to this game than potting them from everywhere and I've proved that today."
The beaten 2008 finalist denied there was any needle between the two, despite a few instances during the match that suggested otherwise.
Trump led 9-7 after Sunday's second session, which led to a short exchange on Twitter, sparked by Carter posting "Luck Trump".
And at 12-10 down on Monday, Carter clapped sarcastically after what he deemed to be another stroke of luck for his rival.
The 22-year-old Trump responded, suggesting some of his fellow pros are jealous of his success.
He said: "A lot of players enjoy me losing. I don't know why, I'm not a bad person, I don't have any beef with anyone.
"I haven't got a clue [why Carter clapped sarcastically]. I'm still a lot younger than him and have done a lot better, so let's just let the snooker do the talking.
"If he wants to do that, then it's up to him, but he's 30-odd years old and it's a bit childish."
Carter, 32, said: "He had three or four lashes in the last frame, like he'd been doing in the whole match, and got away with it.
"I don't think he realises how much luck he gets, how much he gets away with.
"You cannot keep potting balls like that and if he carries on going for them, he will be getting beat.
"I've been on too many wrong ends of matches like that and now he can feel what it feels like to have a nasty scar in his career. It's not easy to get over.
"He's a great player, has achieved more than me in the game already. He's great for the game, he's like a young Ronnie [O'Sullivan] really.
"But he's got to develop a little bit more of a personality, start slagging a few people off, and then people will love him even more I suppose."
O'Sullivan said the criticism could motivate Trump.
"Winners enjoy that challenge and find a way of proving their critics wrong. I think Judd will be inspired by that. He's young, he's got time on his side and we all know how great a player he is," he said.