World Snooker Championship: Hearn dismisses burn-out fears
By Ben Dirs
BBC Sport at the Crucible
Last updated on .From the section Snooker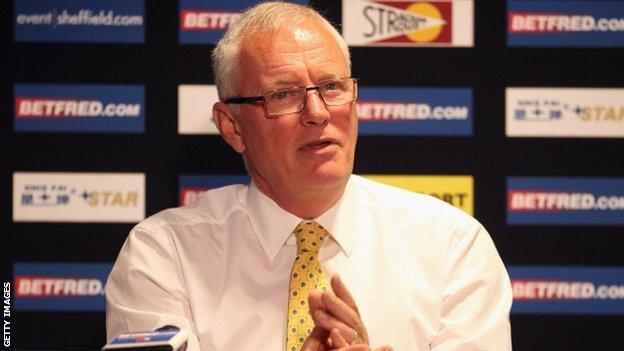 Snooker chief Barry Hearn laughed off suggestions his expanded tour might lead to player burn-out, despite Stephen Hendry citing it as one of the reasons for his retirement.
However, Hearn conceded next season's 50-week tour would inevitably lead to snooker becoming a young mans' sport.
He said: "It's funny. Tell the geezer that goes down mines about burn-out.
"But we've lost one player in Stephen Hendry and the old guard are going to find it increasingly difficult."
Hearn took over as chairman of World Snooker in 2010, when there were only six ranking events, and has grown the sport to the extent that there will be 10 ranking events next season, five of them in China.
This is on top of a host of smaller Players Tour Championships tournaments (PTCs), all of which has met with a mixed response from established players.
Seven-time world champion Hendry, who retired on Tuesday, said it was no longer possible for him to combine tour and family life at the age of 43.
And his quarter-final conqueror Stephen Maguire suggested players were coming to the Crucible under-par because of the extra work-load.
"It's all part of being a professional and they've got to get used to it," said Hearn. "I couldn't have less sympathy.
"They're getting ever so well-paid, they've got a fantastic opportunity. Anyone born with the ability to play their chosen sport and earn a living is the luckiest person in the world.
"Players will be younger because life is not so easy when you've got a wife and children and you've got a bit staid in your old age.
"But when you're this young lion, you want to go out and rip everybody's head off, make some money and a name for yourself. And that's what snooker wants.
"I think it's hilarious when players complain, it shows you how soft they got. Welcome to the real world, they're going to work. And players who don't will drop like a stone down the rankings list."
With the rankings system based on prize money from next season, Hearn added that top players were likely to pick and choose events. However, he claimed that would create a more vibrant market.
He said: "They're not all going to do all 50 weeks. But that creates a great market for us because, as with golf, when tournaments don't get the really top players their answer is to double the prize money.
"If you've got 50 weeks of snooker, if you want your event to be special you've got to come up with a reason why, and that generally means an increase in prize money."
Hearn also announced a new two-year deal with the Barbican Centre in York for the UK Championship and a new three-year deal with Alexandra Palace in London for the Masters, as well as an Asian Order of Merit.
Meanwhile, Hearn admitted the early-tournament controversy surrounding Mark Allen and Mark Williams was "great publicity" for snooker.
Northern Ireland's Allen accused his first-round conqueror Cao Yupeng of cheating, after two-time champion Williams criticised the Crucible.
"You've had more stories to write about this year than I can remember for years and years and we need stories," said Hearn.
"You can't just write that everything's nice, who's going to read that? No-one. That's why the reporters have done a good job, because they've gleaned it out of these boys - the rascals.
"Plus, we always give the [player] fines straight to Haven House Children's Hospice. We're thinking of naming a wing after Mark Allen."