World Snooker: Ronnie O'Sullivan is the man to beat - Robertson
By Ben Dirs
BBC Sport at the Crucible
Last updated on .From the section Snooker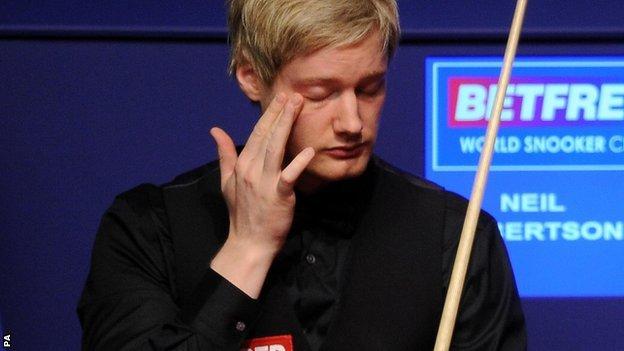 Neil Robertson says Ronnie O'Sullivan's renewed focus makes him the man to beat at the Crucible after losing to him in the World Championship quarter-finals.
"It's looking good for him," said Robertson. "He looks really focused and he didn't lose the plot at all.
"If he approaches all his matches [in the same way], he'll run away with this tournament easily."
O'Sullivan, who plays Matthew Stevens next, began Wednesday's middle session trailing 5-3 but reeled off six frames in a row, including the first four inside an hour.
In the evening session, O'Sullivan made two century breaks to secure his first semi-final since he last won the tournament in 2008.
The 36-year-old was sanguine following his latest victory and conceded he was enjoying himself at the Crucible.
"I thought if I had to win this title I was going to have to beat him [Robertson], he's had a fantastic season," said O'Sullivan.
"It's nice to enjoy the game and play it with a bit of openness, that's my natural game. So as long as I'm cueing well I can be quite aggressive with the balls and that's the key, because that's my game.
"It would be great to win another one but there's a long way to go and everyone left in it is capable of winning this event. Neil was the man to beat and then I saw [Stephen] Maguire beat Stephen Hendry, so it's down to a roll of the dice.
"I just need to make the most of these occasions now. I'm just pleased I've had a little run and if I get through another match, great. If I don't, no big deal.
"I've enjoyed it, but there's more to life than snooker and if it falls apart, it falls apart, what can I do about that?"
Asked if he was in a good place mentally, the notoriously fragile O'Sullivan laughed, replying: "It's a bit late. I should have done it 15 years ago."
Australian Robertson said Welshman Stevens, a two-time runner-up, would have his work cut out trying to stay with O'Sullivan if his conqueror was on his game.
"Ronnie's definitely the man to beat now," said Robertson. "He played quite aggressive today and it caught me off guard a little bit. He got his tactics right and fair play to him and he'll definitely take some stopping.
"First to 17 and 18s is like practice for Ronnie and if he gets off to a good start and pulls away, I'm not sure Matthew's got the game to pull him back."