World Snooker 2012: Ronnie O'Sullivan ready to retire
By Ben Dirs
BBC Sport at the Crucible
Last updated on .From the section Snooker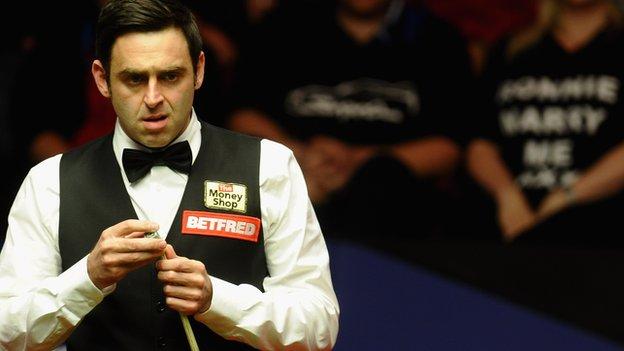 Ronnie O'Sullivan says this year's World Championship final could be his last match at the Crucible.
Three-time champion O'Sullivan, who faces fellow Essex player Ali Carter in the tournament decider, has threatened to quit on numerous previous occasions.
However, the recent expansion of the snooker tour to 27 events, covering 50 weeks of the year, could seal the 36-year-old's decision.
He said: "I've made the decision. This might - might - be my last time here."
O'Sullivan, after comfortably beating Matthew Stevens in their semi-final, added: "I don't intend to stay in the game long, even though I feel [I'm in] in a lot better place. I might consider having a good, long break, a couple of years off.
"I've weighed up the pluses and the minuses and I'm quite comfortable with the decision.
"There's no better way [to go out] than to get to the final at the Crucible. If I win it, it's a bonus; if I don't, at least I can say I've gone out on a high."
O'Sullivan also said last year's World Championship could be his "last throw of the dice", while his most recent threat to quit was after the UK Championship in December.
His focused displays at the Crucible this year, which he attributes to his work with sports psychologist Dr Steve Peters, led some to believe he had finally tamed his demons.
The irony being, now that his demons finally appear to be in check, O'Sullivan seems happier to make the decision to hang up his cue.
"I've had a fantastic time and it's got to come to an end sooner or later and I don't want to drag it out too long," he explained.
"People might think it's a bit crazy, but people close to me know what's going on. Now is as good a time as ever.
"I've been working on my mental side with Dr Peters and it hasn't been easy. But he's helped me massively and I've just been competing.
"There's a lot of pressure involved in being a professional sportsman and I'm not sure I want to be sitting here another 10 years deluding myself.
"Some of these players I've played, they're so aggressive and you need to be on your game. That's a lot of pressure.
"And managing your own expectations and the expectations of everybody else is difficult. I've done my best, that's all I can do.
"Sometimes you've just got to live life a little bit. Maybe I'll do a bit of Strictly Come Dancing or something like that?"
Last week, seven-time world champion Stephen Hendry retired after his quarter-final defeat by Stephen Maguire, citing snooker chief Barry Hearn's revamped schedule as one of the reasons behind his decision.
And on Thursday, O'Sullivan, a single parent, revealed he collapsed earlier this season under the workload of the punishing new regime.
"I got a letter recently saying I have missed 12 tournaments and I might face another disciplinary hearing," said O'Sullivan. "I have two beautiful young kids who I want to see grow up, and that's all that matters.
"I've had a great career, but this is probably the hardest place to play: 17 days in Sheffield and I feel like I've been here two months. It never felt this long when I was 21 or 22, maybe that's because I had nothing else in my life."
As for the final itself, he said he expected Carter to be a more formidable opponent than when they met on the biggest stage in 2008, when O'Sullivan won 18-8.
Carter, 32, beat Scotland's Maguire 17-12 in his semi-final and has his own mental guru in the form of 2002 champion Peter Ebdon.
"In that first final the big occasion got to him and he's learnt a lot from that," said O'Sullivan. "He's won tournaments since then [two ranking events] and been up to second in the world.
"He's had a funny year this year [Carter tumbled down the rankings after suffering the effects of Crohn's disease] but he's shown a lot of strength of character to come through that and reach the final.
"Certain players are suited to the Crucible, they have the right technique and temperament, and Ali's one of them.
"Stephen [Maguire] let the match get away from him early on and you can't afford to give Ali a start, he scores too heavily and is too good tactically. I wasn't surprised, Ali is a great player."