Neil Robertson pleased with consistency during snooker season
Last updated on .From the section Snooker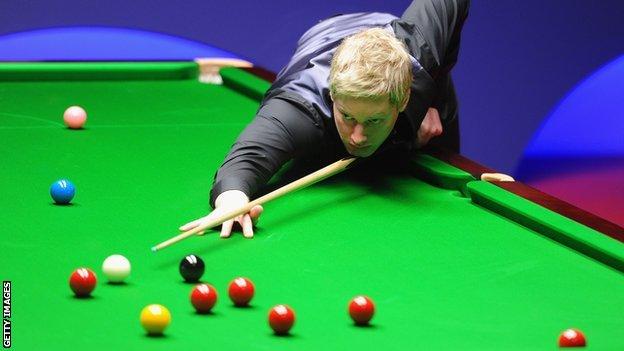 Cambridge-based world number seven Neil Robertson believes he is playing the most consistent snooker of his career.
The Australian, who won the UK Masters tournament and two European PTC events in 2011-12, said in many respects the season had been the best of his career.
"Unfortunately I came up against Ronnie O'Sullivan at his best in the World Championship, but I was very pleased with the way I played," he said.
"Overall, I am absolutely delighted with my season."
The 30-year-old from Melbourne, who has been based in Cambridge for more than a decade, believes that if he beaten O'Sullivan in their World Championship quarter-final he would have gone on to win the tournament.
However, O'Sullivan won 13-10 in what was by some distance the toughest match he played on the way to his fourth world title.
Robertson told BBC Radio Cambridgeshire: "I think that was definitely the key match. Ronnie and I were the only recent winners of the title in the quarter-finals and I feel it was the match everyone was really looking forward to seeing - Ronnie and I particularly fancied our chances of winning if we won our quarter-final.
"He went 9-5 up after I was leading 5-3, but I pulled it back really well to 12-10 and I was unlucky not to go to 12-11 - so it came down to small details."
Robertson, the world champion in 2010, said it would be unfortunate if O'Sullivan, who has announced his intention to take a six-month break from the sport, were to retire from playing full-time.
"Every sport sort of needs your Ronnie O'Sullivans, your Judd Trumps or Steve Davis's and it would be a real shame if he were to retire and only focus on the bigger tournaments," said Robertson.
"But he's been around a long time and achieved everything he could possible achieve in the game, so it's his decision."