Mark Williams fined for tweeting he 'hated' Crucible Theatre
Last updated on .From the section Snooker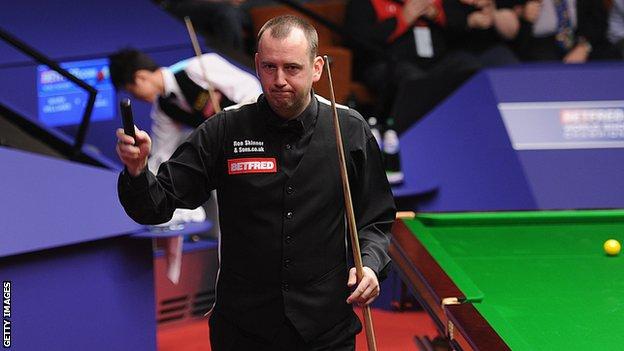 Two-time world champion Mark Williams has been fined for claiming he "hates" Sheffield's Crucible Theatre, the venue for the World Snooker Championship.
The WPBSA, the sport's governing body, has confirmed it has fined him £4,000 for his outburst at the World Championship in April.
The Welshman claimed he would "rather play at Pontins" and hoped the tournament was switched to China.
Williams has been ordered to pay a £3,000 fine and £1,000 in costs.
The WPBSA disciplinary committee ruled Williams's comments on social networking site Twitter on 20 April broke two rules, describing them as "unacceptable and potentially highly damaging to snooker's long relationship with Sheffield and the Crucible Theatre".
World Snooker chairman Barry Hearn claimed the venue would stage the event "until the day I die".
After his initial comments, Williams tweeted: "Wow, I'm in trouble [with World Snooker] for my last tweet about the Crucible."
Realising his views could spark disciplinary procedures, the 37-year-old Welshman, champion in 2000 and 2003, added: "It's only my opinion... so don't send me any letters or fines."
He added: "World Snooker been on the phone. Not sure if it's because I nearly swore, or said I hate playing at the Crucible, or want the World Championships to go to China."
The Crucible's contract to host the World Championship expires after the 2014 event. The Grade II-listed Crucible has held the tournament since 1977.
The Crucible, which celebrated its 40th anniversary last year, underwent a £15m refurbishment in 2007, with the building closed for three years during the upgrade. However, it continued to host the World Championship.