Snooker player Joe Jogia feels 'victimised' by WPBSA
By Shamoon Hafez
BBC Sport
Last updated on .From the section Snooker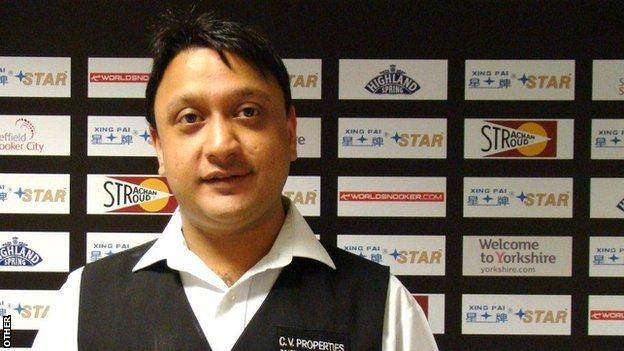 Joe Jogia has hit out at the treatment he says he has received from the World Professional Snooker and Billiards Association (WPBSA).
The Indian was suspended by the sport's governing body pending a hearing on 25 July into alleged match-fixing.
"I don't feel the WPBSA are racist, but it is a complete and utter disgrace the way they have treated me. I am being made a scapegoat," he told BBC Sport.
The WPSBA says "each case is judged according to the disciplinary rules".
The governing body added: "We refute any allegations of racism. There has been a previous case where the player [John Higgins] was suspended immediately."
Jogia, 36, was suspended on 30 May after an unusually large amount of small bets were placed on Matthew Selt to win their Snooker Shoot-out encounter in January, a match from which Jogia withdrew with a twisted knee.
However, Selt was not awarded the match, as is commonplace if an opponent pulls out, but instead faced a new opponent in Rod Lawler.
The chairman of the WPBSA's disciplinary committee, Nigel Mawer, decided to launch an investigation and stated that Jogia, currently ranked 47 in the world, had a case to answer.
Jogia was subsequently suspended from the tour by board chairman Jason Ferguson, who said at the time that he was aware of the player's injury.
With nearly two months between his suspension and his hearing date, Jogia, from Leicester, is unhappy at how long it will take to discover his fate and its impact on his career and earnings.
"I cannot contest enough how innocent I am. The hearing date is a joke and I feel totally victimised. I have been given no reason as to why the investigation will take so long because it needs to be done straight away," said Jogia.
"The suspension means I am missing a lot of ranking points and prize money. I'm missing out on two tournaments, which is my livelihood. I can't afford to miss events like the top players in the world do and am trying to earn a few quid in life. I need to play."
It is not the first time the sport has been embroiled in a match-fixing scandal.
In 2010, four-time world champion John Higgins was cleared of match-fixing allegations after being filmed by the News of the World allegedly accepting £261,000 to fix matches, but was given a six-month ban and £75,000 fine for bringing the game into disrepute.
Scottish snooker players Stephen Maguire and Jamie Burnett were investigated by police but no grounds for criminal charges found after alleged match-fixing claims during their UK Championship match in 2008.
And in 2006, Australian maverick Quinten Hann was found guilty of breaking match-fixing rules and given an eight-year ban and £10,000 fine after agreeing to lose a match at the China Open in exchange for money.
World number 44 Selt, who was himself cleared of bribing an opponent in 2008, said he was bemused by Jogia's comments.
Neither player has qualified for the main stages of a ranking event since the 2011 UK Championship, where Selt lost 6-1 to Graeme Dott and Jogia was beaten 6-4 by Mark Williams.
"I don't know why he has said these comments, he might just want some attention," said Selt.
"It has nothing to do with what race he is and I am sure Joe is not that stupid to get involved in it. He knows what will happen if he gets caught."
However, the Romford player did have some sympathy over the length of time taken to hear the case.
"I think the hearing should be brought forward so that he can get back to playing if he is found not guilty. Snooker is our life and if we are not playing, then we can't do anything."
In the meantime, East Midlands businessmen may be getting a knock on their door.
"I have a house to live in," said Jogia, "and I might have to go work in a factory to pay for it."