Ronnie O'Sullivan break gets Ali Carter backing
By Chris Osborne
BBC Sport
Last updated on .From the section Snooker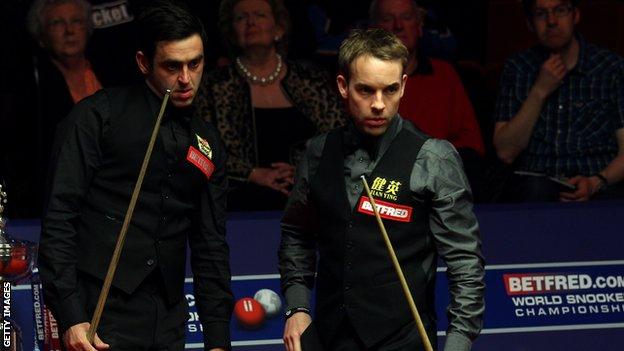 Ali Carter has backed Ronnie O'Sullivan's decision to take a break from snooker, admitting he would follow suit in the world champion's position.
In a statement he said the contract was "too onerous".
"Where he is in his career and his financial situation, I agree with him 100%," Carter told BBC Sport.
"Ronnie's in a fortunate position. I wish I was in his position where he's been very successful, he's a great player and he can take the choice not to sign it."
In a statement the chairman of World Snooker Jason Ferguson said: "The [players'] contract is there to protect the players' income derived from the tour, and the sport as a whole.
"Once players have signed the contract they are free to choose which events they wish to play in.
"Ronnie O'Sullivan of course is free to sign the contract at any time during the season which would make him eligible to play in World Snooker events, but it is important to note that signing the players' contract does not in itself compel any player to enter any World Snooker tournaments."
O'Sullivan can sign the contract whenever he wishes, should he decide he wants to play in major tournaments next season.
But Carter, 17th in the world, has committed to the contract with the aim of travelling to upcoming tournaments in China and Australia.
"You might as well sign it, but that's Ronnie saying I'm not signing it because I don't agree with it. So he's having his own little protest," said the two-time World Championship runner-up.
"I can't see him not playing in the Masters, so he'll have to sign it for then.
"The overseas tournaments I'm not bothered if I go or not. But with my ranking position at the moment I've got to play to get my ranking up. That's the only reason I'm going to Australia and China."
and Carter says he would understand should the 'Rocket' decide to walk away from the baize.
"If he retires it'll be good. He's won the World Championship four times, he's achieved everything he probably wants to in the game and he's got a couple of lovely kids and wants to spend more time with them," he said.
"The way the tour is going, the financial side isn't a motivation for him anymore. If I was in his position I'd be doing exactly the same as what he is."