Snooker duo ready for crack at the big time

By Keir Murray
BBC Sport Scotland
Last updated on .From the section Snooker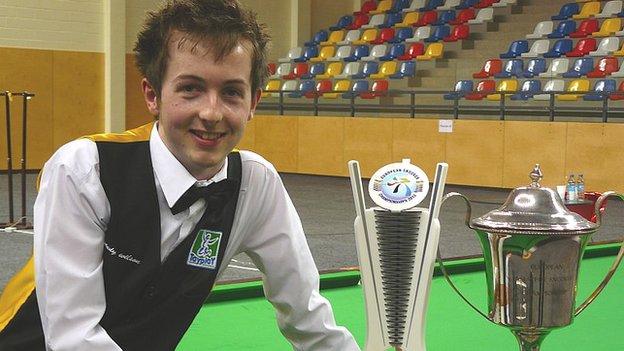 Scotland's reputation as a breeding ground for top snooker talent has been enhanced by the professional contracts awarded to two of the country's newest stars.
Perth 18-year-old Scott Donaldson and Michael Leslie, 19, from Bonnyrigg, are now striving to make a living in the paid ranks after each won amateur tournaments on the Continent.
Donaldson beat Ireland's Brendan O'Donoghue 7-3 in the final of the European Amateur Championship in Latvia, following the success in March of his countryman Leslie, who won the European Amateur Under-21 title in Bulgaria.
The reward for the young Scots was a two-year professional deal and the chance to follow in the footsteps of Stephen Hendry, Graeme Dott, John Higgins et al.
"I can't believe I won it," Donaldson told BBC Scotland.
"It was 80 of the top players from all over Europe.
"This is what I've been working towards. I left school two years ago to try to play snooker full-time.
"I didn't want to end up thinking 'what could have happened?'.
"Don't get me wrong, this is where the real stuff starts. I have not done anything yet but hopefully I can move up the rankings."
The challenge for this teenage duo is to make sufficient progress to avoid losing their professional card.
It would seem they have timed their run well, though, because World Snooker chairman Barry Hearn is increasing the number of players on the main tour from 96 to 128 for season 2013/14.
This means there is no immediate danger of demotion - the real pressure for Donaldson and Leslie to stay pro will come the following term.
Leslie said: "When you think of everyone in the world who is playing snooker it's amazing to think there are only 96 pros.
"Barry Hearn is trying to spread the game so I think it's quite an exciting time for a young player, especially for someone like me with no strings.
"As a young person you want to live your life and see places.
"Even though you are living your dream, it's still a job - but a great job."
The duo expect to play 20-30 tournaments this year.
Under-21 champion Leslie, who practises at home for six hours a day, is grateful for the support shown by his parents.
"My mum and dad put a great extension on the house so it's perfect to play there," he said.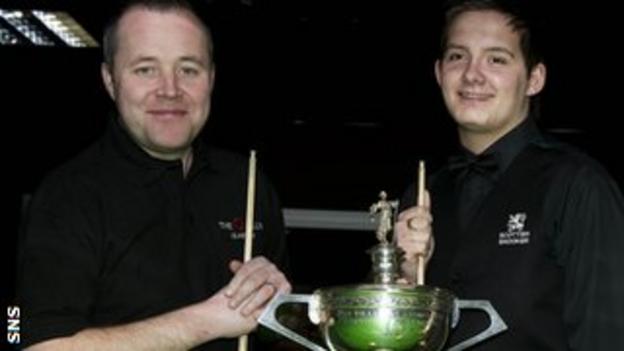 "My dad used to play as an amateur when he was young but he never made it.
"He can direct me on where he went wrong. His advice over the years has helped me get where I am.
"My mum gets all my waistcoats and tries to make sure I look the part."
Remarkably, Leslie has risen to the professional game without lifting a ranking Scottish title open to all age groups.
He was rated Scotland's fifth best amateur and the country's best Under-21 player when he won the European Under-21 title.
Leslie continued: "I won the Scottish Open twice but I never won a full Scottish amateur event before turning pro, but I think winning the European is a good enough achievement.
"When you get your pro ticket, you take it."
His European Under-21 form suggests he may have the talent to compete with snooker's more famous names once he finds his feet.
After progressing through the knockout stages in Bulgaria he lost only four games from his last 32 tie through to winning the final.
But in his first two professional tournaments, both in June, he lost 5-2 to Paul Davidson in the early stages of the Wuxi Classic in China and by the same score to Duane Jones in an early Australian Open exit.
"My ambition has always been to be world champion," he added.
"Top 16 would be a dream too. I'll take one tournament at a time and hopefully everything will come good."
Donaldson, who has been playing snooker since he was 12, lives in the family home in Perth but practises at Edinburgh's Locarno club.
He had won one Scottish men's title and Scottish Under-21 and Under-19 titles before his Latvian triumph.
He said: "There are so many new tournaments. It's about a 50-week calendar now but that's what you want as a professional snooker player.
"I know it's a hard sport to make a living in."
Donaldson will be able to gauge just how tough a challenge he faces when he makes his professional debut in a UK Players Tour Championship event in Gloucester on 18 July.