Joe Jogia banned after suspicious betting patterns investigation
Last updated on .From the section Snooker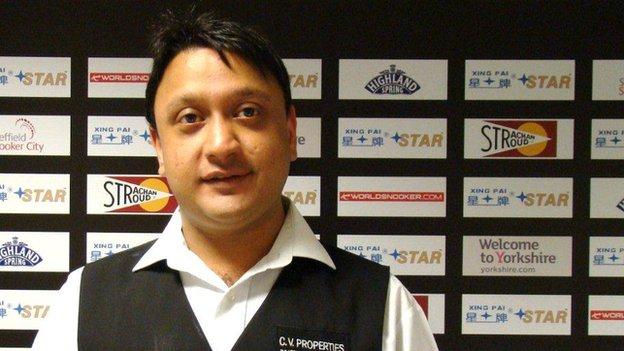 Joe Jogia has been banned until the end of the 2014 World Championship after a probe into suspicious betting patterns.
The World Professional Billiards and Snooker Association (WPBSA) found him guilty of breaching betting rules.
Jogia, 36, was also orderered to pay £2,000 towards the cost of the hearing and investigation.
An investigation found that 19 bets were made or attempted on Selt to win at different betting shops in the Leicester area.
A total of 14 bets with a combined value of £4,830 were placed and four bets worth £2,300 and another bet for an unknown amount were declined.
Jogia, who is ranked 57 in the world, withdrew from the match with a twisted knee.
A WPBSA statement said: "It was established that the two persons placing the bets were known to Joe Jogia as associates."
It went on: "Following the placing of bets, Jogia was in repeated contact with them. There was no contact prior to 16 January, then he sent 33 text messages and made three calls to one of the persons placing the bets and 42 text messages and one call to the other.
"Jogia has failed to provide a consistent or detailed explanation as to the reason for the contact.
"Initially, Jogia claimed that the reason for the betting must be that people were aware of an injury that he had suffered, but four of the suspicious bets were placed before he claimed to have suffered the injury and a further seven of the bets were placed before he sought medical attention.
"Although there was no evidence to show that Jogia would have gained financially, the disciplinary committee found that the frequency and timing of this contact, his lack of a consistent explanation for the contact and the suspicions raised by the pattern of bets placed by his associates, created an actual or apparent conflict of interest for him."
WPBSA chairman Jason Ferguson said: "In protecting the public image of our sport, the WPBSA has strong links with the gambling commission and the betting industry.
"The integrity of our sport is of paramount importance and the outcome highlights how seriously the WPBSA will treat such matters."
After his provisional ban, Jogia told the BBC in June that his treatment by the WPBSA was "a complete and utter disgrace".