Steve Davis v Thepchaiya Un-Nooh match cleared by WPBSA
Last updated on .From the section Snooker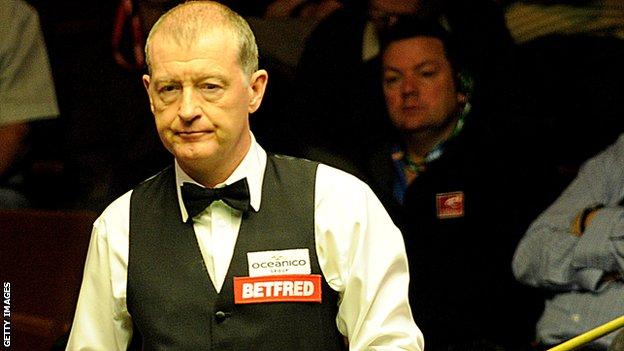 Snooker's world governing body will take no action after investigating betting patterns in a match between Steve Davis and Thepchaiya Un-Nooh.
The World Professional Billiards and Snooker Association was looking into a game where six-time world champion Davis, 55, beat his Thai opponent 4-0.
A WPBSA statement said: "There is insufficient evidence to show that there has been any breach of the rules.
"[The WPBSA] will take no further action regarding this matter."
The players were competing in the third round of the Players Tour Championship in Gloucester on 8 September.
It is understood that the WPBSA did not believe Davis had breached rules.
After contacting various bodies including the Gambling Commission, the WPBSA determined there was no proof of wrongdoing.
The WPBSA had been made aware that the odds on Asian betting exchanges moved considerably in the hours before the match.
From around an 8-11 odds-on favourite, the betting odds for the 27-year-old Thai player, ranked 79th in the world, drifted to 11-8 against by the time the game had begun.
Davis, who is ranked 49th in the world, won the match in an hour and 25 minutes, taking the four frames 88-9, 85-22, 68-60, 72-44.
WPBSA chairman Jason Ferguson said at the time that "any player found guilty of such a breach is likely to be banned for life from snooker. Protecting the integrity of the sport of snooker is of paramount importance."