Stephen Lee suspended while WPBSA investigates allegations
Last updated on .From the section Snooker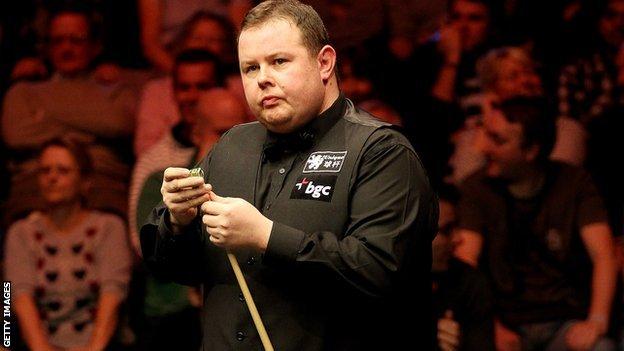 Stephen Lee has been suspended by snooker's governing body as it investigates suspicious betting surrounding his Premier League match with John Higgins on Thursday.
World number seven Lee, 37, was already subject of an investigation by the World Professional Billiards and Snooker Association (WPBSA).
The investigation surrounded match-fixing allegations made back in 2010.
Lee has been informed he will not face a criminal prosecution over the claims.
"The WPBSA have concluded that it would not be appropriate for Stephen Lee to continue to compete on the world snooker tour whilst these investigations are undertaken," said a statement.
"Therefore WPBSA chairman Jason Ferguson has taken the decision to suspend Stephen from competition whilst this enquiry is ongoing.
"Subject to his right to appeal, this suspension will remain in place until either the conclusion of the investigation or any resultant hearings."
Lee, of Trowbridge, Wiltshire was arrested in February 2010 by police investigating suspicious betting patterns, but denied any wrongdoing.
A statement from the WPBSA on 2 October said it had been informed "by the Gambling Commission that the CPS will not be taking further action in relation to the match-fixing allegations against Stephen Lee".
It added: "The WPBSA will now be allowed access to details pertaining to the inquiry in order to consider whether there has been a regulatory breach of the governing body's rules."
Lee was 25 in the world at the time of his arrest, but has risen through the rankings and is up to sixth after winning the second event of the Asian Players Tour Championship in China in September.
The WPBSA has pledged to ban any player found guilty of breaching its betting rules.
World number 60 Joe Jogia was banned for two years and ordered to pay £2,000 costs in July after a large amount of small bets were placed on Matthew Selt to win their shoot-out match in January.
In 2010, four-time world champion John Higgins was cleared of match-fixing allegations after being filmed by the News of the World newspaper allegedly accepting £261,000 to fix matches, but was given a six-month ban and £75,000 fine for bringing the game into disrepute by not reporting an illegal approach to him.
Scottish players Stephen Maguire and Jamie Burnett were investigated by police but no grounds for criminal charges were found after match-fixing claims during their UK Championship match in 2008. The WPBSA did not take any disciplinary action.
And in 2006, Australian Quinten Hann was found guilty of breaking match-fixing rules and given an eight-year ban and £10,000 fine after agreeing to lose a match at the China Open in exchange for money.